In the hours leading up to I/O 2016, let's see what Google's conference has brought us in years past
3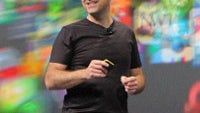 There are only a few hours left until Google's massive developer conference kicks off, and while we can't wait to see what the company has in store, moments like these always make us feel a bit nostalgic, causing us to look back at years past and think of the great milestones that used to get us all excited.
If you're looking for a round-up of what we expect to see at this year's Google I/O, please
do check our article out
. But, since you're already here, why don't you take a couple of minutes to browse through the compilation of moments we've put together below – what you'll find there is a gathering of all the big announcements that have been made at Google I/O in the past few years. If anything, who knows – a reminder of the past might prove to be a good indicator of what we might experience later today!
Do let us know about your favorite Google I/O moment in the comments!
So, what's next? Join us as we experience Google I/O 2016 today, starting at 10 AM Pacific Time!