Google I/O 2016 starts on Wednesday, May 18; here's what to expect
20

It's funny how things change if given enough time. A couple of decades ago, being called a geek would have been insulting. Today, being one is actually kind of cool. After all, it is geeks that stand behind companies like Microsoft, like Apple, like Tesla, like... Google. It is them who are busy with shaping the future of technology.

Speaking of which, quite some future-shaping is scheduled to occur in just 2 days, 2 hours, and 36 minutes. The 2016 Google I/O conference begins on Wednesday, May 18, and will bring aspiring developers from all around the world for a three-day event – an event filled with coding lessons and exchange of ideas. Oh, and a few announcements are likely to be made there as well. This one, in particular, you don't want to miss.
Nutella? Nougat? Nachos? New major Android release is coming

Yup, there's a new Android flavor coming up. We don't know what Android N will end up being called, and we doubt we'll find out at Google I/O, but we do have a list of features the new software is expected to bring. Native split-screen multitasking is one of them – makes sense, as our phones are getting bigger, and we want to be able to do more on them. In a nutshell, the feature will let two apps run side by side, with both being active at the same time.
We're also expecting to see an overhauled notification system in Android N. Bundled Notifications, as they're called, will combine multiple notifications from a single app into one card. Tapping a button will show a complete list of notifications. And since notifications are displayed in a more compact manner, more of them will be visible on the screen.
Of course, not all of what Android N is going to feature will be visible to the eye. The new software will bring battery life optimizations, support for the Vulkan API, and a whole lot more. Don't hesitate to read our
Android N preview
to learn what else the new Android treat will have in store.
Hardware: new Nexus tablet and upgraded Nexus 6P to be announced?
While Google I/O is an event dedicated to software, we've also seen hardware being announced on stage in previous years. The Google Nexus 7, for instance, made its debut at I/O 2012. This is why the unveiling of a new Nexus tablet during this year's opening keynote won't come as too big of a surprise. And the chances of this happening are greater than you might think. One solid clue pointing at that direction is that the Nexus 9 was recently taken down from the Google Play Store. We suppose something new has to fill its spot, preferably something big enough to nicely show off the aforementioned split-screen multitasking feature in Android N. As far as who's going to build the next Nexus tablet, it is speculated that HTC or Huawei might have been tasked with the job.
Rumor also has it that a new Nexus smartphone is to be brought along for the show. This could be an upgraded variant of the Nexus 6P – one swapping the Snapdragon 810 for a Snapdragon 820 and bumping the amount of RAM from 3 to 4 gigs. Android N is expected to run on the phone out of the box. Since the leak in support of this rumor is a
GeekBench benchmark result
, we have no clue whether this alleged Nexus 6P refresh will look as the current one.
Android VR: a real step ahead for virtual reality
Tech-savvy folks should be well-familiar with Google Cardboard. The project, introduced at Google I/O 2014, brought virtual reality to the masses with its low headset cost and broad compatibility with Android devices. No less importantly, it helped with popularizing VR technology among consumers – millions of people have already tried Cardboard, be it on their iPhone or Android phone.
Android VR could be Google's next big virtual reality project, if rumors are to be trusted. Unlike Cardboard, this new device will be a dedicated VR headset – it will not require a smartphone to display images and handle graphics – meaning that it should deliver a better user experience. Further specifics regarding specs, design, or pricing of the device aren't clear right now. Whether Android VR will replace Cardboard or will coexist with it isn't yet known either.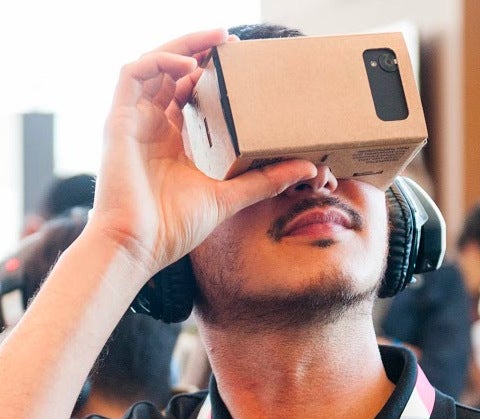 Google Cardboard - will it coexist with Android VR, or will it go the way of the Betamax?
Android Wear turns two; where is it headed?
Android Wear – Google's own mobile platform for wearable device use – has been around for a couple of years now, and smartwatches powered by it are only expected to get better. Nope, they probably
won't be able to run Windows 7
, but they could get more functional in the very near future. At Google I/O, we'll hear the company's vision for the Android Wear platform, and there's a session dedicated to that on the second day of the event. What's new, however, is something we don't yet know.
Android Pay to expand soon?
Google's mobile payments system, Android Pay, will get its fair share of time under the spotlight. We don't know what's in store – all Google's teasing us is that
"exciting new announcements"
are in the works for Pay – but it seems safe to assume that the platform will launch in new markets, will work with more partners, and will get new features.
Recommended Stories