Ikea to sell lamps and tables that offer wireless charging via Qi
6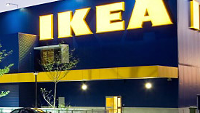 With more and more smartphones supporting wireless charging, furniture retailer Ikea is getting into the act by offering lamps and tables that will wirelessly recharge your phone. These floor, table and work lamps come with built-in wireless charging spots. A pair of bedside tables are also offered along with individual pads that can add more charging locations to your home.
Ikea's wireless charging furniture supports the Qi Wireless Standard, which is the leader in the industry. The furniture will go on sale in the U.S. and U.K. starting in the middle of April. Pricing has been announced in the U.K. starting at the equivalent of $46. Pricing in the states will be announced shortly.
Ikea is also selling charging covers for Apple iPhone and Samsung Galaxy S handsets that will allow both models to employ the furniture. Now smartphone users have a reason to visit Ikea's U.S. and U.K. locations besides going to chow down on the retailer's famous Swedish meatballs. Click on the slideshow below to see some of the Ikea furniture that not only makes your home look great, but also keeps your smartphone powered up.
via:
Engadget