IDC says 1 billion smartphones were shipped in 2013, led by Samsung's 313.9 million units
16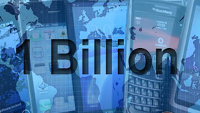 For the first time in history, more than 1 billion smartphones were shipped in a single year, according to IDC. The 1.004 billion units moved were a gain of 38.4% from the 725.3 million shipped in 2012. Smartphones represented 41.2% of all mobile phones that were in transit in 2012, rising to 55.1% last year. For the fourth quarter alone, the 284.4 million smartphones shipped compared to the 229 million in 2012, for a gain of 24.2% year-over-year.
Checking the global smartphone market for the fourth quarter, Samsung shipped 82 million phones which represented 28% of the market. Despite the gain of 22.9% in the number of units shipped, Samsung's market share actually declined from 29.1% to 28.8%. That is because the Korean company's year-over-year gain was actually slower than the whole smartphone market, which rose sharply thanks to a surge in low-priced Chinese produced Android handsets. Apple was next with 51 million iPhones shipped in the period. That gave Apple 17.9% of the smartphone market, down from the 20.9% share it owned in 2012. Huawei, Lenovo and LG rounded out the top five and the trio all gained market share in the quarter thanks to strong year-over-year growth (56.5%, 46.3% and 53.2 respectively).
"The sheer volume and strong growth attest to the smartphone's continued popularity in 2013. Total smartphone shipments reached 494.4 million units worldwide in 2011, and doubling that volume in just two years demonstrates strong end-user demand and vendor strategies to highlight smartphones."-
Ramon Llamas, Research Manager, IDC's Mobile Phone team
Including all phones, Samsung shipped 112 million units in the fourth quarter which was actually a 1.4% decline from 2012. The company now has a 22.9% market share of the entire mobile phone market. Nokia was second, shipping 63.4 million handsets for a rather steep decline of 26.5% year-over-year. After Apple's 51 million handsets shipped in the three months, there is a big drop off with LG (18.5 million) and Huawei (17.9 million) next. For the entire year, Samsung shipped the most handsets with a total of 446.7 million, nearly double the 251 million shipped by Nokia.
source:
IDC
via
TechCrunch