IDC: Wearable shipments to reach 213.6 million units by 2020
11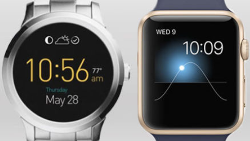 Research firm IDC predicts that this year, shipments of werables will rise 29% from last year to hit 101.9 million units. A little more than 50% of the market comes from deliveries of fitness trackers manufactured by companies like FitBit and Jawbone. Smartwatches are responsible for 40% of wearable shipments. In that category, you have Apple, Samsung, LG, Motorola, Huawei, and many others vying for attention.
By 2020, IDC sees both categories flip flopping with smartwatches controlling 52% of the market compared to fitness bands' 28.5%. By that year, wearable shipments are expected to reach 213.6 million units, says IDC, which will be the result of annual growth in the 20% range.
Smart eyewear and smart clothing are two segments of the wearable market expected to grow rapidly from now through 2020. Both together now own less than 1% of the market. By 2020, the smart eyewear sector will be responsible for 8.8% of wearable shipments, with smart clothing making up 7.3% of deliveries.
via:
CNET