First in networking gear, second in phones, Huawei is now looking to capture the 5G chipset market
5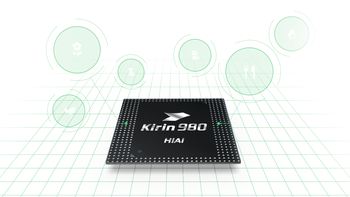 While Huawei and 70 of its affiliated companies
now need U.S. government approval to buy parts from the U.S.
, the company doesn't have to worry about accessing SoCs from San Diego based Qualcomm. That's because Huawei designs its own chips for the firm's high-end handsets. The next such chip, the Hi-Silicon Kirin 985, is due out in the second half of this year.
According to Digitimes
, the Kirin 985 is designed for Huawei's 4G LTE phones. However, the chip can be outfitted with Huawei's own Balong 5G modem; this will allow phones powered by the Kirin 985 to connect to mobile 5G sub 6GHz networks.
The Kirin 985 chipset with the 5G Balong modem will first appear on the Huawei Mate 30 line due out in the fourth quarter of this year. The chip will be manufactured by TSMC using the 7nm+ mode, with trial production runs scheduled for this quarter. By the third quarter of this year, the Kirin 985 should be rolling off of TSMC's assembly lines in volume.
Following the release of the Kirin 985, Huawei is expected to introduce 5G SoCs that come with an integrated 5G modem. These chips are expected to roll out sometime between late 2019 and early 2020. Early next year, Huawei is also planning on offering chips that will be used on smartphones supporting mmWave 5G connectivity. The latter uses very high-frequency radio signals in the 24GHz to 90GHz range. While mmWave 5G speeds could be faster than those achieved over sub 6GHz airwaves, the wavelengths are shorter. As a result, it will take less time to build out a nationwide 5G network using sub 6GHz. This is why T-Mobile expects to be first in the states with a coast-to-coast 5G platform next year using sub 6GHz only.

According to sources cited by Digitimes, Huawei's Hi-Silicon unit plans to compete with Qualcomm to become one of the top two suppliers of 5G SoCs to phone manufacturers. The report notes that MediaTek will have a 5G chipset for sub 6GHz smartphones before the end of this year. It also expects Apple to design a 5G SoC in time for the launch of the 2020 iPhone models.
Huawei offered to sell Apple its 5G Balong modem chips last month

Huawei's road map is not unique. Other global chip designers are said to be creating chipsets for mobile devices that can be produced with a 4G or 5G modem chip as the slow migration from 4G to 5G begins. These firms will start offering 5G SoCs with integrated 5G modem chips as well as chips supporting mmWave 5G next year.
The Huawei Mate X will be the company's first 5G phone and will use a Kirin 980 SoC with a 5G modem chip
Interestingly,
Huawei offered to sell Apple its Balong 5G modem chip last month
. This came at a time when Apple was unsure about which company it would source the component from. Due to its legal battles with Qualcomm, Apple appeared committed to using 5G modem chips that were being developed by Intel. Still, there were questions about whether Intel could deliver them in time for a 2020 launch, which led Apple to talk with Samsung and MediaTek. Finally, the company reached a settlement with Qualcomm that included a multi-year supply deal for the chipmaker's 5G smartphone modem.
Huawei's first 5G phone, barring any Galaxy Fold-like delays, will be the
Mate X
. This is a foldable phone that folds out instead of in like Samsung's device does. The Mate X will use the same Kirin 980 SoC found on the current P30 line but will include a 5G Balong 5000 modem chip. The $2,600 device will probably not be seen in the U.S. since President Trump is expected to sign an order soon that will ban Huawei products from entering the states.