Apple could end up buying 5G modem chips from a very unlikely source
58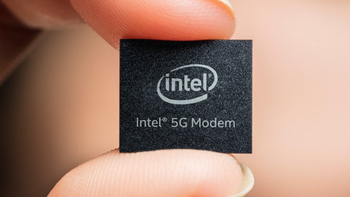 You might know that Huawei manufacturers handsets and networking equipment. At the end of last year, it was the third largest smartphone company in the world and the top provider of networking gear. What you might not know is that Huawei designs its own chips. Its Hi-Silicon unit created the Kirin 980 SoC which is currently found powering up the
Huawei Mate 20 Pro
and the Huawei
P30
series. It also will be used to drive the foldable
Huawei Mate X
. While Huawei designs the chips, they are actually manufactured by TSMC.
Now as we discussed yesterday,
Apple is relying on Intel to have its XMM 8160 5G modem chip ready in time
for its 2020 iPhone models. There are conflicting reports about whether Intel will deliver the component in time, and as a result, we have seen rumors that a 5G iPhone might not surface until 2021. Intel says that it will be shipping the chip later this year, but just in case there is a problem, Apple has found an unlikely friend in Huawei.
Engadget reports today
that Huawei would consider selling its 5G Balong 5000 modem chips to Apple. The report cites a source who has "knowledge of the situation." This is an unusual thing for Huawei to do considering that an executive said earlier this year that "Balong is mainly for supporting Huawei's smart products, such as phones and IoT products, and is currently for Huawei's internal use only." It also seems strange considering that Huawei is looking to leapfrog over both Apple and Samsung to become the global leader in smartphones by 2020.
Apple could turn to Qualcomm, but that is unlikely to happen since both firms have been squaring off in court over patent infringements, antitrust claims, and royalty payments, In fact, a week from today a courtroom in San Diego will host a multi-billion dollar trial between Apple, its contract manufacturers like Foxconn and Wistron, and Qualcomm. At stake are unpaid royalties amounting to billions of dollars. Qualcomm CEO Steve Mollenkopf said back in November
that his company was "on the doorstep" of resolving its differences with Apple
; we now know that this was not the case.
While it seems that Huawei would be "open" to selling Apple its 5G modem chips, the other side of the equation is whether the gang in Cupertino would be willing to buy them. During the FTC v. Qualcomm case, Apple supply chain executive Tony Blevins testified that
Apple was considering the use of 5G modem chips from Samsung or MediaTek
for the iPhone. Even though Apple currently uses only Intel modem chips for its handsets, Blevins talked on the stand about "Project Antique." This was Apple's attempt to find a second supplier to provide it with modem chips. As Blevins noted, "No offense to (Intel) but we don't want to be single supplier with them. We wanted both Qualcomm and (Intel) in the mix."
How would the Trump administration respond to an Apple-Huawei partnership?

Huawei's Balong 5000 modem chip supports both mmWave and sub-6GHz 5G networks. It also is compatible with 4G LTE, 3G, and 2G networks. The important thing about using Huawei's modem chip is that Apple could get its hands on it earlier than Intel's chip and have more time to test a 5G iPhone. The Balong 5000 5G modem chip will debut on Huawei's first phone to support the next generation of wireless connectivity. That device happens to be the foldable
Mate X
.
Apple wouldn't be the only one in such a partnership to benefit. Huawei would get to widen the use of its chips beyond its own devices, and you can just imagine how much revenue would flow into the company's coffers. It also might play well in China after U.S. government attacks on Huawei have led some Chinese consumers to unofficially boycott Apple products.

There is a huge unknown here, and that is how the Trump administration might react. Huawei is considered a threat to U.S. national security and allies have been warned not to use Huawei's networking gear to build out 5G networks. That's because the law in China requires a company like Huawei to gather intelligence if requested to do so. Considering that we are talking about the modem chip, a major component in communicating voice and data, there are bound to be concerns about the use of Huawei's component inside the iPhone.