Huawei introduces its entry in the 7 inch tablet market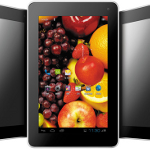 Amazon has apparently created a monster with the launch last November of the Amazon Kindle Fire. Since then, we have had
Google enter the 7 inch low priced tablet market
with the Google Nexus 7. The 8GB model of the latter is
a bomb aimed right at the Kindle Fire
with its $199.00 price tag to match Amazon's device. And speaking of the online retailer, it is expected to
soon introduce the sequel to the 7 inch original model
.
Huawei MediaPad 7 Lite
. Huawei's 7 inch tablet will offer a 7 inch IPS display with Full-View-Angle producing "
an amazing visual experience
," 3G connectivity and Wi-Fi support, 1080p Movie Playing which Huawei calls a theater-like experience, all in a metal unibody shell using a silvery aluminum alloy. Huawei has not revealed a price for the tablet, but based on the company's history, we would expect the Huawei MediaPad 7 Lite to be priced aggressively.
No launch date was announced by Huawei
.
For consumers, the competition in this area should lead to some very good values. Will some manufacturer, possibly Huawei, come along and
demolish the $199 floor that now stands?
Or will the focus be on using a shoe horn to stuff as many features into that price point as possible. Hopefully, the manufacturer will release a more precise list of specs for the tablet soon.
source:
Huawei
via
Phandroid