New Huawei Mate 10 Pro render emerges, reveals an interesting detail
7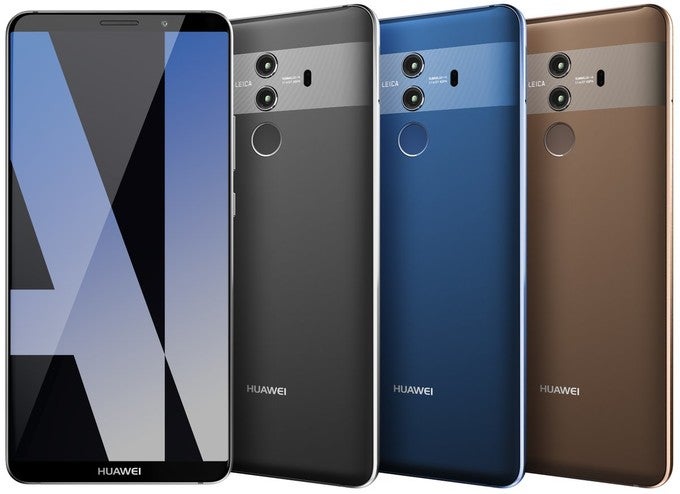 Huawei Mate 10 Pro in grey, blue, brown. There might be an additional color variant hiding in this picture...
The announcement event for Huawei's new Mate 10 series is just around the corner, and, unsurprisingly, a barrage of leaks are heralding its arrival.
Little is left to the imagination from what has surfaced so far - we already know that the lineup will feature multiple devices, we are aware of the majority of their most
important specs
, and even their
visual appearance
. Granted, some of this information is unofficial, but the sources from which it came from have proven to be trustworthy.
One of these sources is the ever-reliable Evan Blass. Less than a week ago, the leakster uploaded a supposed official render of the
Huawei Mate 10 Pro
, which showed the device in three color variants - grey, blue, and brown. Now, Blass has shared another render which reveals an interesting little detail.
When asked whether the Mate 10 Pro will feature black front bezels across all color variants, the tipster responded with the following tweet:
Good question!



RT @IshanAgarwal24 "Hey @evleaks. Am I right that Mate 10 Pro will have only black bezels on the front...?" pic.twitter.com/y79I1b2S1d— Evan Blass (@evleaks) October 3, 2017


As you can see, the hue of the front bezels will correspond to the color of the Mate 10 Pro's back panel. This is not too common for smartphones that employ the "full-screen" design approach - popular handsets like the Samsung Galaxy S8/S8+, Note 8, LG V30, the Essential Phone, and the iPhone X all stick to black bezels regardless of the color variant. Perhaps the only other notable exceptions to this trend are the LG G6 and Xiaomi Mi Max 2.


What's even more interesting is that if the first render proves to be credible (the one on the top of this article), this could mean that there will be a fourth, black color variant of the Mate 10 Pro.


Do you like the looks of the Huawei Mate 10 Pro? Let us know in the comments below!


source: Twitter @evleaks