How to make Android look like Windows Phone 8
99+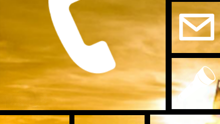 Please note: this is a tutorial for inexperienced users (beginners).
One of the greatest things about Android is that it allows you to thoroughly customize its appearance - even if this means that your device ends up looking like one that runs a totally different (read: competing) OS.
Today, we'll show you how to make an Android handset look like a Windows Phone 8 one (only when it comes to software, of course). Why would anyone want to do that? Well, maybe because they're bored of the way their Android UI looks. Or perhaps they like Windows Phone, but not enough to go and buy a handset based on it. Anyway, if you can
make Android look like iOS
, or
like Ubuntu Touch
, why not give it a Windows Phone makeover, too?
Of course, Android can't
make itself
look like Windows Phone, and you'll need the help of third-party apps to accomplish that. More exactly, you have to download third-party launchers that you'll use to replace your default launcher. Just go to Google Play Store and search for "Windows Phone launcher". You can't go wrong with any of the launchers that appear among the first search results - see the source link at the end of this article.
After you install and open a Windows Phone launcher on your Android device, this will probably ask you if you want to use it "Always", or "Just once." If you select the second option, you'll only see the new launcher once, and, next time you hit the home button, your old Android home screen will reappear. If you select "Always", it doesn't mean you won't be able to change the new launcher afterwards. To change it at any time, go to Settings -> Home, and just choose which of the installed launchers you want to use. Once you're there, you can also delete any third-party launcher that you may have installed.
When you're using a Windows Phone launcher, the Android software keys won't disappear. Even so, you could fool some people into thinking that you have a Microsoft-powered device. Mind you, most Windows Phone launchers don't change your lock screen, so this will still look like before. However, the launcher called "Launcher 8 free (fake wp8)" does replace the lock screen.
Is anyone here using (and perhaps enjoying) a WP launcher on their Android device? Let us know in the comments!
source:
Google Play