How to make your Android look like it's running iOS 7
40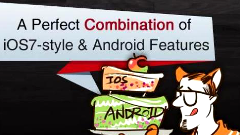 If you want to test drive the new
iOS 7
looks, and learn firsthand why hardcore iPhone users are grumbling against it, as with anything that's radically different from the past, you don't have to get an iOS device.
Your Android phone can be transformed to look like a big-screen iOS 7 gear with just a couple of applications now, mainly from Espier Studio, that you don't even have to sideload. The apps include an iOS 7-style lock screen, launcher, notifications and control panel, as well as a dialer and contacts app that look exactly like on iPhone.
Granted, KitKat comes with a great dialer now, and there are plenty of other choices at the Play Store, but if you want the latest work of Jony Ive's design team, yet with Android's functionality like home and lockscreen widgets, check out the apps below. Bear in mind, though, that you'll have to shell out for the full ad-free iOS 7 experience, as not all features are present in the free app versions.