How big would you like the new iPhone screen to be: Poll results
37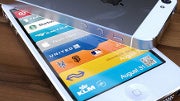 A lot of people took part in our poll last week. We asked you: "How big would you like the new iPhone screen to be?", and then we
gave you several options to choose from. Of course, we picked the most popular screen sizes available currently, including the current iPhone's 3.5" diagonal, 4", 4.3" and up.
The option that got the most votes (1145) was 4.3 inches, which also happens to be the Samsung Galaxy S II's screen size. The second-biggest group of users (935) are those who would like to see the next iPhone have an even bigger, 4.5" display. However, 845 of you would rather prefer it to come with a 4" screen. Obviously, there are also a lot of people who aren't willing to go any higher than that for one reason or another. Interestingly, though, the option that has the iPhone retain its current screen size has more votes than the one that suggests a screen size of 3.7-inches. We guess that customers who wanted a bigger screen simply went for the more "extreme" options.
The conclusion we can draw from all this is that a lot of people out there would love to see the new iPhone sport a bigger display than 3.5". With numerous rumors and leaked parts all hinting at a bigger screen, this might as well become a reality when Tim Cook comes out on stage to announce the phone later this year (hopefully
as early as next month
).
Still, we wouldn't hold our hopes too high regarding a 4+" screen. Apple is, after all, targeting the mass consumer, who rarely needs or wants such a big display on their phone. With almost all hardcore smartphone users now siding with Android, the iPhone is now being purchased by a different customer group, which doesn't appreciate it for its numerous apps, games, or fast processor, but mostly for its appearance and seamless user experience. Because of that, it the manufacturer does increase the screen size, we guess it won't exceed 3.7", or maximum 4.0".
It does make some sense for Apple to seek a slightly bigger display size. When the iPhone first launched in 2007, it could do much less than what it can do today, due to the faster hardware and incredible apps that were eventually written for it. With so much stuff to do, it makes sense to try and improve the comfort of using the device by making the screen bigger. However, we doubt they will be willing to make it much bigger than it is right now, because otherwise they'll again compromise the comfort of using the device, due to larger physical dimensions. For Apple, it will all be a matter of finding the right balance between screen size and phone size, and we feel that 4.3" or 4.5" will be somewhat off balance for the company.
Recommended Stories