Hot new pictures of the Nexus One
This article contains unofficial information.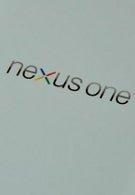 2.1
. In addition, the sliding drawer where applications reside on earlier Android models is now gone and the number of home screens is up to 5. Navigation to each home page is done by clicking on dots on the bottom of the screen or by clicking on a thumbnail view of each page. A widget on the home screen brings you news headlines and weather information. The bottom line is that Engadget calls the Nexus One and Android 2.1 more polished than earlier versions of the OS including the DROID and version 2.01. We are looking forward to getting our review unit of the handset so that we can provide you with our hands-on opinion of what is the hottest phone thus far of the brand new year.
HTC Nexus One Preliminary Specifications
source:
Engadget