Holding out for an unlocked LG V30 in the US? You'll probably have to wait a bit longer
13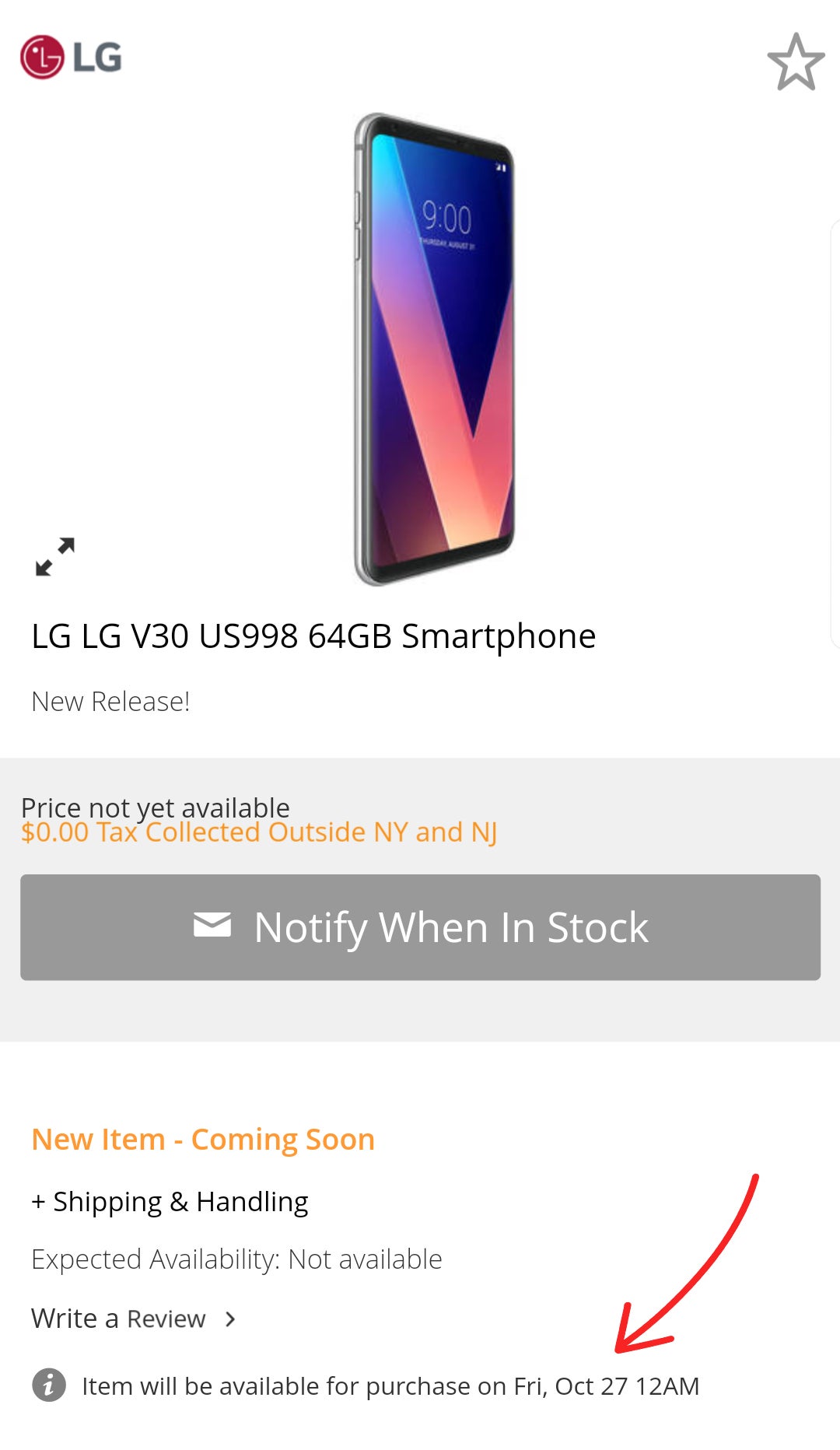 Yesterday marked
the long-awaited U.S. release
of LG's latest flagship phablet,
the V30
. However, this release was limited to Verizon, AT&T and T-Mobile only, with Sprint getting the device on October 13 instead, and the unlocked version being simply listed as coming "soon"
But an eagle-eyed reddit user going by the name
demonjrules
may have just uncovered said release date, and it's fair to say it isn't as soon as LG would like you to believe. Visiting the device's store page on B&H's website — but only when browsing on a smartphone — reveals a piece of text reading: "Item will be available for purchase on Fri, Oct 27 12 AM."
So there you have it, folks: unless B&H put in some arbitrary placeholder date in their database (it's possibility, but highly doubt it), the unlocked version of the LG V30 will be released at the end of the month, just shy of two months after
the device's official unveiling
.
And while United States device sales traditionally go mostly through carriers, we can't help but wonder whether such a long delay will hurt LG's bottom line — after all, there still is a sizeable proportion of the population which is on alternative carriers, or simply prefers not to tether themselves to one when they buy a new phone.
But regardless of whether the unlocked V30 will release on the 27th or earlier, it's fair to say the device's launch was quite a mess: we only got the U.S. dates last week, a whole month after LG announced it — and even then those dates came from carrier press releases, while LG itself provided no means for consumers to check when the device is coming out on its own website.
The same thing happened with the
G6
release earlier this year, though that time we got the U.S. release dates
just
18 days after the announcement. Sure, there's a point to be made that the States aren't a part of LG's key smartphone demographic (a.k.a. South Korea), but such delays can only work against the company, as post-unveiling hype is a major factor in successful device launches. So here's hoping LG does better with the G7 (if there's one, of course) next year.