Here's what Consumer Reports thinks about the Apple iPhone 6 Plus and #Bendgate
99+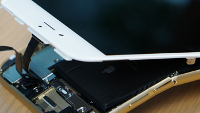 Back in 2010, when
Apple iPhone 4
users noticed that they were losing signal strength when the phone was held a certain way, the phrase Antennagate was coined.
Consumers Report refused to rate the model
until the problem was corrected. With the new #Bendgate issue affecting the
Apple iPhone 6 Plus
, Consumer Reports decided this time, to conduct a series of tests to see how easily Apple's new 5.5 inch phablet bends in comparison with other models.
Using a device called the Instron, the not for profit magazine conducted bending tests on the Apple iPhone 6 Plus, the Apple iPhone 6, the
HTC One (M8)
, the
LG G3
and the
Apple iPhone 5
. The results showed that both the HTC One (M8) and Apple iPhone 6 were the easiest to bend, with both models doing so at 70 pounds of force. Consider that it takes 55 pounds to break three pencils held together. The Apple iPhone 6 Plus was next with the case bending when 90 pounds of force was applied. That was followed by the 130 pounds of force required to bend the LG G3, the Apple iPhone 5 and the Samsung Galaxy Note 3.
Suppose you measured how much pressure it took to have the case separate from the screen. The HTC One (M8) had that happen after applying 90 pounds of force. 100 pounds of force did that to the Apple iPhone 6 and 10 additional pounds of force separated the case from the screen on the Apple iPhone 6 Plus. The Apple iPhone 5 and the Samsung Galaxy Note 3 both did the best in this test with 150 pounds of force required to perform the task.
So what is Consumer Reports view of #Bendgate? After further review, the magazine says that it is nothing more than hype. Now that we've seen a neutral test, will that put an end to this? Not likely. Unbox Therapy, whose video helped start all this madness, took a brand new iPhone 6 Plus to Toronto, where it easily bent in front of witnesses.
source:
ConsumerReports
via
Engadget