Here are two apps that make buying a used car less painful
4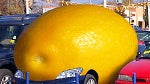 In the market for a used car? The process is usually far from being a smooth one with unscrupulous salesmen and jacked up prices. And we haven't even touched on the actual used cars with engine problems covered up by twine and spit. But two apps are available for your Apple iPhone that just might make buying a used car a little less painful, but only in the U.S. The apps allow you to scan a car's unique Vehicle Identification Number (VIN number) and get back the wholesale or auction value of the vehicle. This is important because a report by Ken Research shows that the average markup on a used car is
14%
compared with the 2% for a new car.
According to the creator of the
Vinny
app for the AppleiPhone, Alexander Kiss, "
Dealers really prey on consumers
." The app shows an estimated wholesale price for a car based on previous transactions, and the condition, mileage and age of the car. Having this information in hand can help you save money when negotiating with a used car dealer. Kiss says, "
For example, if a dealer has a $10,000 sticker price on the car, we can show you that the wholesale price on that car is $8,000 and that there's some negotiating room
." In addition, the free app also includes prices from the Kelly Blue Book and other sources including similar cars sold on eBay.
Another app,
Snafu Scan
, also provides the wholesale price of used cars, accurate to $100-$300. Unlike the Vinny app, this app will require you to lay out some money with a $9.99 30-day subscription. Besides wholesale prices, Snafu Scan will enlighten you on tricks that dealers use to cover faulty air conditioners or head gaskets. Unlike Vinny, Snafu Scan is also available from the Google Play Store.
source:
Vinny
,
SnafuScan
via
Reuters
Recommended Stories