HTC claims Desire will get Gingerbread by the end of July
4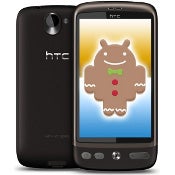 Android OS upgrades are the most fickle of all things, even when you are told over and over that it will be coming soon, soon never seems to arrive. At this point T-Mobile G2X users may never see their update even though they have
another reason to believe
, because they've been hearing that it is "coming soon" or coming "in less than a month" since the phone was released back in April. HTC, however, has been better about upgrades than many manufacturers, and they are claiming now that HTC Desire users will be getting Gingerbread by the end of the month.
At first, Desire users were told
not to even expect Gingerbread
, then a day later, they recanted and said Gingerbread
would be coming
to the phone.
UK users got their Gingerbread
fix at the end of June. Now, HTC has said that testing is finished and the Gingerbread update is almost ready for everyone else, claiming it should be pushed out by the end of July. The only trouble now is seeing what HTC has had to pull out of the ROM, as they have already said that because of memory space concerns,
certain apps will be pulled
out of the Gingerbread update, but will be available for download later.
Good luck, Desire users! We'll let you know when the update is officially available.