HTC changes its mind, Gingerbread will after all come to HTC Desire
21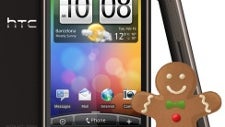 The HTC Desire was released nearly a year ago, but it's still one of the most popular Android handsets out there. The future cooperation of the handset with the latest of Android Gingerbread, however, was on a bumpy road. First the Taiwanese phone maker set the bar high saying the HTC Desire was getting Android 2.3 Gingerbread, then all of a sudden just yesterday
HTC backpedaled
in a post on its Facebook page:
"Our engineering teams have been
working hard for the past few months
to find a way to bring Gingerbread to the HTC Desire without compromising the HTC Sense experience you've come to expect from our phones. However, we're sorry to announce that we've been forced to accept
there isn't enough memory
to allow us both to bring Gingerbread and keep the HTC Sense experience on the HTC Desire. We're sincerely sorry for the disappointment that this news may bring to some of you."
You can already guess what happened just the next day, can't you? HTC completed the cycle with a 360 turn: "Contrary to what we said earlier, we are going to bring Gingerbread to HTC Desire," the company followed up on Facebook. So taking into account how quickly the company backtracked, one starts doubting the
veracity
of the issue with the insufficient memory as it doesn't seem very likely for the company to be able to fix in one day what it has been "working hard for the past few months."

HTC was brief and didn't give a
release date
for the Gingerbread update on the HTC Desire, but our hopes are that it will come soon rather than late. Patience is a virtue, especially for those Android updates, isn't it?
Thanks, Philip!
Recommended Stories