HTC Ozone snaps into place at Verizon?
2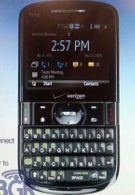 reported
earlier, Sprint is expected to offer their version of the HTC Snap this Sunday June 7th, called the HTC Willow. (isn't Sprint supposed to be launching someother smartphone this weekend?) Well, other carriers want in on the Snap name game and now it is apparently Verizon's turn to play along. One of BGR's sources has passed along some pictures of what Big Red is calling the HTC Ozone which is simply the Snap all dressed up wearing the brand of the nation's largest carrier. The source says that the device will have Wi-Fi, support for Microsoft's MyPhone, IE 6 mobile, and Visual Voice Mail compatibility; all this, and it is also a world phone.
While no word was passed along on pricing or launch date, Verizon's reps are supposed to start training on the Windows Mobile powered device next week. It shouldn't be terribly difficult to learn everything about this handset. In fact, we hear it should be a Snap.
HTC S511 Specifications
source:
BGR