It's not that Snapdragon 810 overheats, Galaxy S6 might just be unleashing a chipset war with Qualcomm
52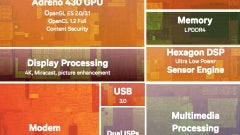 The use of Samsung's own Exynos line of chipsets instead of Snapdragon 810 in the
Galaxy S6
might not be because of the purported overheating issues the TSMC foundry allegedly has with Qualcomm's newest retail SoC, but because Samsung actually wants to go to war with the world's most famous mobile chip maker, and take it head on with its superior 14nm manufacturing process.
Exynos 7420
and
Snapdragon 810
- these two chipsets are already going into flagship phones, says Korean media, citing industry sources, but Samsung is placing the Exynos in the Galaxy S6, while Qualcomm makes do with the
LG G Flex 2
, and the
Xiaomi Mi Note
for now. After mishaps with overheating Exynos 5 series, Samsung used its homebrew processor line sparingly, but is now back in full force with the Exynos 7420, that is about to go into the S6.
Regarding the differences between Snapdragon 810 and the Exynos 7-series, we'd have to wait and see exactly what modification Samsung will use for the S6, but one thing is for certain - it will be built on the superior 14nm process, whereas Qualcomm uses 20nm for the 810, and only this year will move down to 14nm. In general this means less power consumption plus smaller processor footprint and/or superior performance at comparable clock speeds, but Qualcomm has other aces up its Snapdragon chipset sleeve.
One of the advantages used to be its excellent multiband LTE modems that it paired with the Snapdragon SoCs, but now that
Samsung created an LTE Cat. 9 radio of its own
, that point becomes somewhat moot - more so it will be built on 20nm, whereas Qualcomm's LTE radio is still at 28nm. Granted, there won't be support for as many bands as Qualcomm does now, but that would worry only heavy globetrotters.
As for the Snapdragon 810 optimization for 4K encoding, decoding and streaming - it remains to be seen how Exynos will fare with those, though we wouldn't worry too much about it, as Samsung's chips have proven capable enough so far, and, face it, how many 4K streaming services are out there at this very moment to take full advantage of.
Recommended Stories