HTC One M8 vs One M9 BoomSound: In-depth speaker comparison
17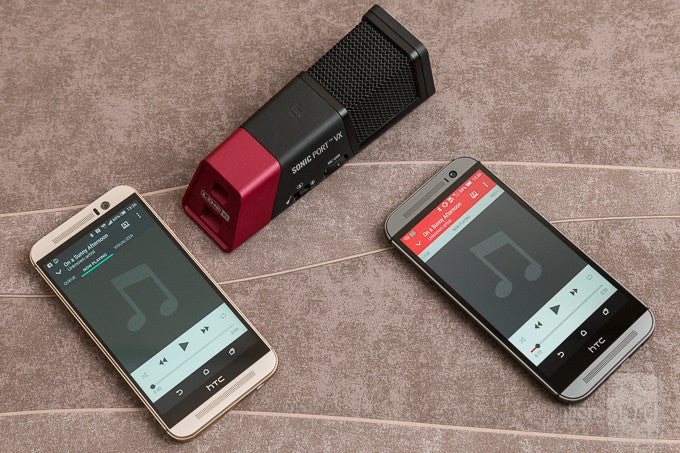 When HTC
announced
the
One M9
back in March, it became apparent that the company chose to only add incremental upgrades to its smartphone (excluding the 180 degree turn it took with its camera philosophy, placing a 20 MP sensor and removing the duo-camera module). The changes that can be found, naturally, include a hardware bump up to the 64-bit flagship SoC from Qualcomm – the Snapdragon 810, an upgrade in RAM and battery capacity, and the implementation of the UltraPixel technology for the frontal cam of the phone. Aesthetically, it got its bezels reduced and now comes in three different finishes, adding a fresh look to its hull. And while the One M9 sports BoomSound speakers, just like the
M8
before it, HTC didn't say much about them – do they sound the same, or has there been a change?
Now, back at the MWC showfloor, we managed to make a
quick improvised comparison
test between the two handsets and, while it showed that they do sound just slightly different, the conditions were not perfect for us to be able to draw final conclusions on the matter.
We chose a song with plenty of acoustic instruments (drums, acoustic guitars, fretless bass, piano, et cetera) for this test and loaded it up on both phones. For each recording, we placed our microphone about 2" from the center of the currently used smartphone, both facing each other, of course. In the slideshow below, you can hear a recording, which constantly switches back and forth from M8 to M9 (slide 1), as well as listen to the separate recording for each phone (slides 2 and 3).
Interesting results here – sure, the two phones do sound similar, however, there is a distinct muddiness to the sound on the One M8, which is especially noticed when it is compared to its successor. The One M9 sounds more "polished", and alludes to a more "boomy" sound, without muddying it up. Let's take a look at a spectrum analyzer and see what's going on here.
There you have it, folks. Numbers, graphics, and analytics aside - we'd say that the new One M9 sounds slightly more pleasing to our ears in a live scenario. The loudspeakers are probably not the driving reason that one should upgrade for, but is certainly a plus that one should consider.

So, after you gave both recordings a listen, which phone did you like better?
Now reading