Sonic wars: iPhone 6 and Galaxy S6 speakers compared in-depth
48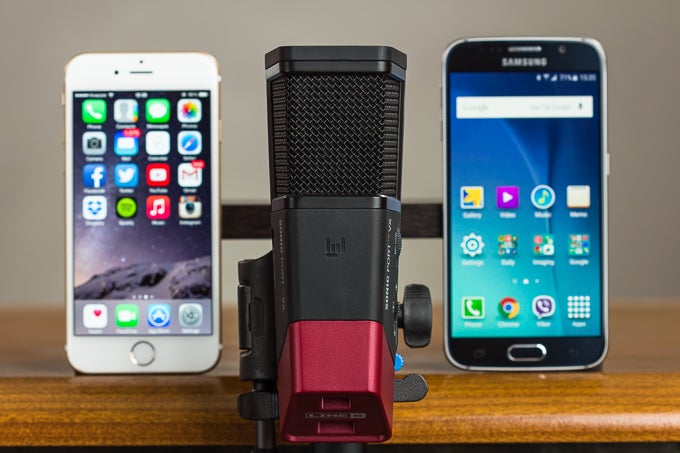 Well, folks, the
Galaxy S6
and
S6 edge
have been out for a while and, sure enough, Samsung's
Project Zero
has apparently turned out to be a successful endeavor. The new flagships sure cross a lot of grief points that customers had with Sammy's top-shelf smartphones – starting with design upgrades, which finally boosted them in looks and feel, moving through camera improvements, and taking care of some of bloat around the interface, allowing for a more slimmed down version of TouchWiz.
So, yes, the Galaxy S6 sure looks, feels, and handles like a true flagship smartphone, but how does it sound? Back when
design leaks
showed that Sammy will be getting rid of that awkward, small speaker on the back of the phone, and will be replacing it with an awkward, wide one on its bottom, we wondered whether the engineers will be working on improving the depth and acoustics of the flagship's audio reproduction – let's be honest here, neither the Galaxy S series, nor the Note series are anywhere near exceptional in that regard.
Well, the short answer is – there sure is a notable improvement, but Sammy still hasn't hit the mark. We decided to compare the Galaxy S6's speaker to the one on the
iPhone 6
, the latter being, arguably, the best sounding
single-speaker
smartphone and an industry benchmark. Of course, we brought a microphone into play and recorded a couple of clips in our studio for you to hear – well, as best as we could, given the nature of the small speakers and their tendency to sound a bit tinny when recorded.
We have to say, the Galaxy S6 also managed to disappoint us with a compromise that it does, in order to reach its full volume level. But more on that later. First – check out the Galaxy S6 vs iPhone 6 audio comparison below, together with full song frequency response graphs, showing the differences between both phones.
So, note how the iPhone 6 manages to produce a slightly deeper sound, and has a more audible bass throughout. Of course, it's not perfect – there's noticeable over-compression and, sometimes, distortion, which are the necessary evils of the small speakers (the former is a bit hard to catch in a recording, but the latter is noticeable in our sample above). The Galaxy S6, on the other hand, sounds harsher, with a sharp hump in the highs, which is easily felt once the flute kicks in – the bass becomes less and less audible as the song progresses.
So, let's check what the frequency graph for both recordings looks like.
But wait! The Galaxy S6 can sound better than this!
We've found that the Galaxy S6 sounds much more pleasing when its volume is dialed to 90%. It is almost as if it reaches its speaker's optimal capabilities at this point. Pressing "volume +" one more time after this results in an unbalanced raising of its mid and high frequencies, which may end up in a louder volume, but is a much, much harsher sound. Our tip to Galaxy S6 owners is to always dial the volume up to max, then back it off with a single tap of the "volume –" button.
Check the slideshow below to hear and see the differences between both volume levels. Naturally, the 90% volume recording will be a bit quieter, but take note of how deeper and well balanced it sounds!