HTC Jetstream Unboxing and Hands-on
23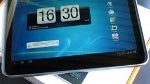 HTC made their presence known in the tablet space when they
launched the Flyer not too long ago
, however, its biggest drawback is the fact that it's sporting the Android 2.3 Gingerbread flare – as opposed to the appropriate tablet-optimized platform with Honeycomb. Naturally, it doesn't take a veteran company like them to quickly bring things up to snuff as the
HTC Jetstream
aims to strengthen their already existing presence. This time around, it's a 10.1" Android 3.1 Honeycomb tablet that's surprisingly flying under the radar as being
AT&T's very first Honeycomb tablet to support their upcoming 4G LTE network
.
Even though it's a tablet, there's no love lost with its packaging as it retains the box styling we typically find used by a majority of AT&T's portfolio, which is noticeable with its orange, blue, and mostly white packaging. For something that has the prestigious title of being AT&T's first Honeycomb tablet to feature 4G LTE support, we're perplexed to find very few scribbles or tidbits about it around its sides. Instead, the image of the tablet takes center stage on both the front and rear of the box to give us a clear picture of what it looks like. Inside, there's nothing new with the included accessories – like the wall charger, microUSB cable, and documentation. Unfortunately, you'll need to shell out $80 to pick up the
HTC Scribe Pen
seeing that it's not bundled.
Holding the tablet for the first time, we're introduced to the distinctive design cues we're so accustomed to seeing with HTC's portfolio – like its solid brushed aluminum exterior. With its choice of materials though, it makes the 10.1" tablet feel considerably
weighty
in the hand, but at the same time, it manages to exude that sense of
durability
. In fact, it seemingly reminds us of the Motorola XOOM in some way since they share some commonalities with their designs.
Stealing the entire show is none other than the Jetstream's support for AT&T's upcoming
4G LTE
network, however, it's going to sit with HSPA+ connections in the meantime until
AT&T gives the thumbs up to its next-generation network
. Supplementing that one standout, the HTC Jetstream features a 10.1" WXGA display, 1.5GHz dual-core Qualcomm Snapdragon processor, 1GB of RAM, 8-megapixel auto-focus camera with dual-LED flash, 1.3-megapixel front-facing camera, Android 3.1 with a reworked Sense UI running on top of it, and a microSD card slot.
At
$699.99
with a 2-year contract or
$849.99
outright, it's one investment that's sure to impact and potentially empty your pockets – but then again, isn't that the pricing we tend to see with other 4G equipped Honeycomb tablets? We'll be checking out this bad boy in the meantime to see if it's worth the investment. Expect our review soon!