10.1-inch HTC Jetstream hitting AT&T: HTC's first Honeycomb tablet comes with LTE
10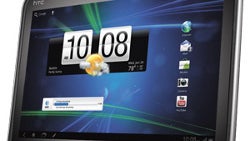 The
HTC Jetstream
, previously referred to as the HTC Puccini, is not only HTC's first 10.1-inch tablet, but also the company's first to run on Android 3.1 Honeycomb, tailor-made for tablets. Add to that support for both
HSPA+ and LTE
, and the company's capacitive stylus, the HTC Scribe, and you have a pretty powerful combination.
The inclusion of LTE makes it the first AT&T tablet supporting the technology. It won't be particularly useful now as AT&T hasn't yet commercially rolled out its LTE network, but it makes the device future proof. The
price
however is set accordingly - the tablet could be yours for a
hefty $699
and that's after you sign a 2-year contract. The HTC Jetstream release date is September 4th.
For a limited time, the
HTC Scribe stylus
will be bundled for free with the tablet, giving it a rather unique HTC identity as just like the HTC Flyer, it comes with Evernote optimized for stylus input.
The spacious 10.1-inch screen comes with a resolution of 1280 x 760 (WXGA), while under the hood the Jetstream packs quite a muscle with a
dual-core
1.5GHz Qualcomm Snapdragon processor. On the back, an
8-megapixel camera
with dual-LED flash is the biggest we've seen on a tablet. The Jetstream also features a 1.3-megapixel front-facing camera, useful for video conferencing. It also supports expandable memory via a microSD card slot.
On the software side, a
reworked HTC Sense for tablets
comes pre-loaded and you can also make use of features like video on demand services like HTC Watch. Battery life wasn't disclosed, but we know that there is a 7,300mAh juicer powering the device. Designwise, the tablet isn't among the lightest slates with 25 ounces of pure weight and measuring 0.51 inches thick.
The tablet will be offered with various options for
data
and AT&T gives a new, 3GB a month option running you at $35 a month. You can also get the tablet with pre-paid data of 250MB monthly for $14.99 or 2GB allowance for $25. The carrier hasn't announced the off contract price, but something tells us that it's going to hurt your pocket. Would all of those features be enough for you to overlook the pricing?