HTC EVO 4G LTE to get updated with Android 4.3 and Sense 5 before year end
19
Perhaps HTC believes that by opening up communications with the average Joe (or Josephine), business will pick up. All we have to say is that HTC America president Jason McKenzie must have channeled Ringo Starr and has "blisters on his fingers" after quite a number of tweets sent out over the last week, keeping us abreast of what the thinking is from the Taiwan based manufacturer.
The latest word is sure to be tweet news
to those totin' the HTC EVO 4G LTE. McKenzie says that the device, which was launched in the dark days of June 2012, will be updated to Android 4.3 and Sense 5.0. This creates quite a stir because the Sprint branded model is still running Android 4.1 and Sense 4.
And the update will bring features like BlinkFeed to the phone.
McKenzie says that the update will take place by the end of the year which gives HTC EVO 4G LTE users a reason to wish for the rest of 2013 to go by quickly.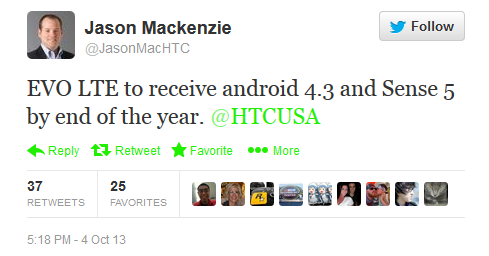 Tweet from HTC America presidemt McKenzie is tweet news to owners of the HTC 4G LTE


source: @JasonMacHTC via IntoMobile