HP CEO asks employees to get rid of iPhones
22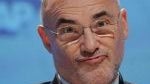 HP CEO Leo Apotheker recently sharedsome of his thoughts and hopes about HP and it seems his major pointis that HP should become "cool" like Apple. Just how cool?Reportedly, Apotheker called on his Bangalore employees to "getrid of their iPhones and iPads." The main reason – of course– is the new webOS software, but HP's head honcho also mentionedthat the hardware is ready and will ship within weeks oftheir announcement.
Apotheker asked 4,500 HP employees toraise their hands if they considered Apple cool and after themajority of them did, he actually urged them to get rid of theirApple products. HP's CEO also pumped expectations for new products launched in the US on February 9th.No surprise about this, right?
Apotheker is on a three-day tour inIndia meeting with employees reportedly to get some feedback aboutHP's progress. But hold on as HP's February webOS event will befollowed by a March 14th event where he will announce hisvision about the company's future. Is HP finally going to bringhardware to match the exciting capabilities of the webOS platform?Let us know in the comments.
source: PreCentralvia BBC Mobile