HP is holding a press event for a webOS announcement on February 9th
8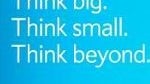 When you look at the webOS front, it seems quite apparent that its presence in the mobile space is beginning to look extremely bleak when very few mobile operators around the world are adopting the
latest webOS powered device
. Surely everyone knows that HP is a force that can't be overlooked, especially when they take up a
sizable market share in the PC market
, but it appears that time is the only obstacle to overcome right now before we get our fix of potentially groundbreaking webOS stuff.
HP has just sent out press invitations for an upcoming event that's going to be held in San Francisco right before
MWC
is expected to happen – February 9th to be more exact! In the invitation, it suggests that people will have to "Think Big. Think Small, Think Small." – which can probably suggest that a huge announcement regarding webOS products are at hand for the event. From smartphones to shiny tablets, we'd surmise to find a rainbow of collective webOS products that can potentially wow consumers all around.
And interestingly enough, there is not
one
mention of anything Palm in the invitation – suggesting that the once thriving brand name might be enveloped by those two simple letters of HP; and nothing more. Are you excited about new webOS stuff?
via
Engadget