H1 2014 in review: 5 innovative technologies that made their way into smartphones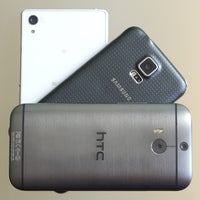 Mobile technology has reached a state where coming up with a truly unique and innovative solution takes tremendous amounts of thought and resources. At the same time, consumers and critics alike are expecting significant, tangible improvements with each new round of smartphones that comes along. You know, something to convince them that a new smartphone is better, that it can do more, that it is worth upgrading to. But the fact of the matter is that smartphone innovation has slowed down its pace. Just think about it: virtually all smartphones fall into the same form factor; there's very little that flagship smartphone "A" can do and flagship smartphone "B" can't.
Long story short, it is not easy being a smartphone maker when buyer expectations are at their current levels and competition is more fierce than ever. This, however, is not stopping the world's greatest minds from coming up with fresh ideas. In fact, over the past six months we have seen a great deal of innovation across many fields of the smartphone industry – innovations implemented into great smartphones in order to give them an
edge
of differentiation over their competitors. Here are 5 examples of that.