Google's Nexus One wants to know if you've fed your ##### cat today?
3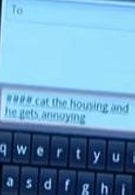 The speech to text technology on the Nexus One comes in handy and for the most part, works as advertised. One of the problems it does have is actually not related to technology but good ole' old-fashioned human censorship. What words should or should not be included? Should there be any censorship at all? Censored words are covered up by the use of the "tic-tac-toe" or "hash marks".
Google says, "We filter potentially offensive or inappropriate results because we want to avoid situations whereby we might misrecognize a spoken query and return profanity when, in fact, the user said something completely innocent." But what happens when a word is used in an innocent way but the censorship engine thinks it is a bad word? Check out this video of the Nexus One review on Attack of The Show and watch what happens when an innocent word gets the #### hash marked out of it.
HTC Nexus One Specifications
|
Review
source:
CNET
,
G4AttackofTheShow
via
EngadgetMobile