Google's Chavez says software patents don't help the market or consumer
53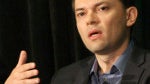 "The recent surge in patents on abstract ideas such as how to run a business or software that merely implements such methods has not promoted innovation in the financial services or information technology fields -- to the contrary, such patents create a drag on innovation."-Google in 2009 petition to the U.S. Supreme Court
Right as one of the
most epic software battles in history is winding down
, Google's public policy director Pablo Chavez told the Technology Policy Institute's conference being held in Mountain View that Google is fed up with all of the patent wars. The company's main complaint is that these patent battles are hurting the consumer. What makes this ironic is that late last week, Google's wholly owned Motorola Mobility subsidiary
filed a complaint against Apple with the ITC
. Motorola Mobility claims that Apple infringed on seven of its non FRAND, non Standards Essential patents and is seeking a
U.S. import ban on the Apple iPhone and Apple iPad
.
"One thing that we are very seriously taking a look at is the question of software patents, and whether in fact the patent system as it currently exists is the right system to incent innovation and really promote consumer-friendly policies."-Pablo Chavez, Google's public policy director
Google also made some similar comments during the
recent Oracle vs. Google patent case won by Google
. Victorious lawyer Kent Walker said that software patents are "
gumming up the works of innovation
." How can they hold back innovation? If a company is
too scared of being sued
, what will occur is a fear of pushing the envelope. But how can Google justify making these comments if it has Motorola Mobility doing its bidding with the ITC? If Google is serious about its concern that the consumer is the loser with all of these patent wars, why make them more miserable?
The only answer is that Apple has upset the top brass at Google so much that the Mountain View based search giant doesn't mind contradicting itself for a chance to get a U.S. ban on the Apple iPhone and the Apple iPad. Revenge is a powerful emotion and it looks like Google would love to get payback on Apple for its role in
temporarily banning the HTC One X and HTC Evo 4G LTE from the U.S. earlier this year
.
"We think that these patent wars are not helpful to consumers. They're not helpful to the marketplace. They're not helpful to innovation."-Google's Chavez
source:
CNET
via
AndroidCentral
Recommended Stories