Judge dismisses Oracle's copyright claim against Google
11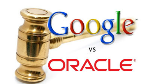 This is it folks, the whole Google vs Oracle fiasco could soon be over and done. We already saw the
ruling from the jury
, which found that Google had not infringed on any of Oracle's patents, and now the judge has ruled on the copyright claims made by Oracle. The ruling is another win for Google as Judge William Alsup has found that the Java APIs did not require a license.
Oracle had claimed that Google stole certain Java API packages and used them in Android, but Judge Alsup has ruled that the APIs were "free for all to use under the Copyright Act." The ruling doesn't necessarily apply to all Java API packages, which may still require licenses, but the specific ones Google used were ruled did not require licenses. Judge Alsup went on to write, "Therefore, Oracle's claim based on Google's copying of the 37 API packages, including their structure, sequence and organization is DISMISSED."
This is a big win for Google and Android. Maybe now this will all be put to rest.