Google says Pixel audio issue is a hardware problem
46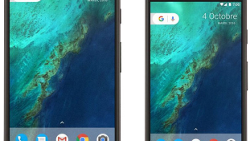 You might recall the story we told you last month about Mark Buckman. He went through five different units of the
Google Pixel XL
, and his wife owns the smaller
Google Pixel
model. Each phone suffers from static distortion at high volume. As an example, Buckman created a video showing how the affected Pixel models could not clearly play the
Perfect Piano
keyboard app when the volume was cranked up. To show us what it should sound like, he used the same app on a
Nexus 6
at the same volume level. The Motorola built Nexus 6 sounded like Carnegie Hall while the HTC produced Pixel XL sounded like the Carnegie Deli.
Google offered a full refund to Buckman
, basically admitting that this was not a problem that could be repaired via a software update. And that was confirmed by a new email from Google dated January 13th, which states that the problem is a hardware issue and that no refunds are being given out at this time. Instead, the company is offering a warranty replacement to affected owners of the two devices.
Buckman did come up with a workaround
that will take care of the issue if you are experienced with flashing custom ROMs on your phone. This manages to eliminate the static distortion that is annoying Pixel and Pixel XL owners.
Now that Google has confirmed that the problem is hardware related, your best bet is to put a claim in for the warranty replacement. Otherwise, you will have to live with the distorted audio.

Email from Google says that the Pixel's audio problems are hardware related
source:
AndroidHeadlines