"Fatal camera error" makes some Pixel 2 cameras unusable, Google acknowledges
32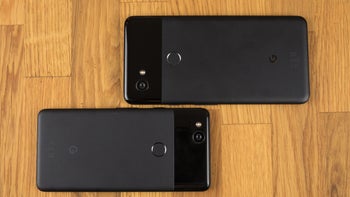 The Google Pixel phones have outstanding cameras, hands down. Thanks to Google's HDR+ software and hardware made to spec, the company managed to blow us away with the original
Pixel
and
Pixel XL
in 2016 and continued to do so with the
Pixel 2
and
Pixel 2 XL
in 2017. Which is why it is a shame that some people still get issues with their Pixel's camera.
Ever since launch, a small number of Pixel 2 and Pixel 2 XL have been having some sort of mystery problem, which does not allow the user to open up the camera app. It just goes "fatal camera error" and closes down. Google's suggestion for a fix is clearing the camera app's cache, restarting the phone, and trying again. If that doesn't work, the company suggests users put the phone in Airplane mode and trying to take a photo this way. Could the issue be somehow related to connectivity?
In any case, some still get the error and can't use their camera.
Such is the case for one Twitter user @CiarasRamblings. On the 8th of July, she tweeted at Google, letting the company know that nothing she tries seems to be working. The only way the user could get any access to her Pixel 2's camera is by opening Snapchat or another camera-based app. At this point, the selfie viewfinder would open up and work just fine. However, trying to switch from the selfie camera to the back-facing camera results in a black screen.
There is hope, however. Google confirmed that it is aware of the issue and the team is looking into a solution. Some early reports claimed that Google is actually replacing Pixel 2 and Pixel 2 XL phones that exhibit this behavior. However, this seems to be a case-by-case basis and there has been no official word by Google on whether or not it replaces phones with the problem. It now seems that the company has narrowed it down to being a software issue, instead of a hardware one, as it seems to be hoping that it'll be able to fix it via an update.
Understood. We're aware of this issue and are looking into it. As a workaround, try temporarily putting your phone in airplane mode and then try to take a photo again. Keep us posted.

— Made by Google (@madebygoogle) July 8, 2018
We'd like to stress that it does seem this is a problem with a very small number of devices. Some users only get it sometimes, some have had it in the past and don't suffer from it now, others simply can't open their camera a single time. And some who have managed to somehow fix the issue report that the camera continues to act funky, failing to ever focus, or coming up with corrupted shots. If you have this problem, maybe see if you can get your phone replaced, as it has been an issue since the devices launched in October of 2017 and no official fix has arrived yet.