Google patent filing for unlocking system revealed
26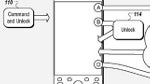 Earlier Thursday a
German court ruled that Motorola had infringed on an Apple patent
protecting its "slide-to-unlock" process. Coincidentally, in the third quarter of 2010, Google went to the USPTOseeking a patent on its own complex unlocking system. The coincidence is that the USPTO published the filing just this month in the midst of Apple seeking court protection for its unlocking process. Google's
Security-Based Unlocking
requires a user to drag from one icon to another while another command unrelated to unlocking is requested, such as making a call to a specific contact.
Another part of the patent filing deals with
Convenience-Based Unlocking
which could be as simple as dragging the icon of a phone contact from the top of the display to an unlocking icon at the bottom. Google also showed a new interface for unlocking future phones. It is a wheel that the user moves to a specific application, for example email. Before the device is totally unlocked, certain actions could take place like refreshing the inbox. Once the complete unlocking process is done and the device is unlocked, the user's email interface would appear, all ready to go. The user could program the device to head anywhere on the phone or tablet after it is unlocked, such as a social networking app. Verbal directions could also be used to unlock the device.
It all seems so complex and convoluted, but that is the price that smartphone users must pay in a litigious world.
source:
USPTO
,
PatentlyApple
via
Engadget