Google+ mobile comes to low-end smartphones
5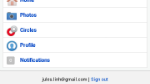 Google+ has been getting a bunch of
visual improvements
in its mobile apps recently, but now Google is aiming a bit lower and bringing the social networks to lower-end smartphones. The updates to the Google+ mobile site are aimed at lower-end phones, especially in emerging markets like Africa and India.
The update brings a more visually bare-bones version of Google+ to devices without modern browsers, so any "internet-enabled" phone will be able to take advantage. Of course, just because the visuals are toned-down doesn't mean the features are. The site will still feature options to upload pictures, post thoughts, share links, and view any circles you have set up.
Beyond that, Google has added features for phones that don't have data plans. Users can now turn on options to receive notifications for various events via SMS.
Good options, but we'll have to see if it leads to more adoption of the platform around the world.