Google revives Snapshot for Android and iOS, adds new features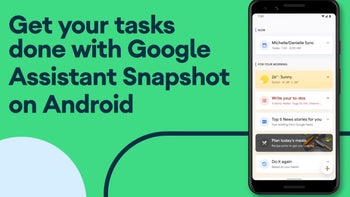 Google
has returned to the drawing board and made Snapshot more useful than it initially was at launch. Introduced two years ago, Google Assistant Snapshot replaced the Google Now feed, but was barely updated over the years.
In a surprise
announcement
, Google revealed today a host of new features that will come to Snapshot on Android and iOS devices. For example, Google Assistant Snapshot users should start to see a summary of other major tasks at the top of the feed, including reminders for upcoming birthdays and holidays.
Google also announced that it's adding "tailored recommendations," which are based on users' preferences for recipes, podcasts, and nearby restaurants that deliver. On top of that, recipe recommendations will be visible during different times of the day.
One of the reasons that Snapshot wasn't too popular among Google Assistant users is because of how you must trigger it by activating Google Assistant and tapping on the icon in the bottom left corner. Well, starting today, Google is making it easier to access Snapshot – you just need to say "
Hey Google, show me my day
." Of course, the new voice command is only available for those using English as their default language, but Google promised to bring it to more languages in the coming months.
Last but not least, you can use Snapshot for notifications. If you want Google Assistant to remind you of upcoming bills, flights, or event updates. According to Google, English-speaking regions will also get notifications about upcoming birthdays. Tapping on a notification will direct you to the related Snapshot card and you'll be offered multiple options like calling or texting.