WSJ: Google Search payments to Apple will slow this year
6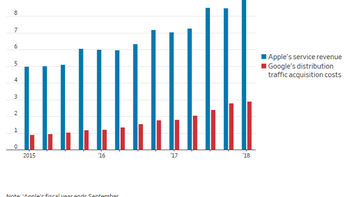 According to one analyst, last year Google paid more than $3 billion to Apple so that Google Search could remain the default search engine on iOS-powered devices like the iPhone and iPad. But Google parent Alphabet has said that its traffic acquisition costs are expected to drop this year, and that category includes such payments to Apple. The latter accounts for such revenue under services, which happens to be the part of Apple's business it is focusing on with the slowdown of hardware sales. In the just released fiscal second quarter, Apple cited licensing as the main driver of a 31% year-over-year hike in service revenue.
Ben Schachter of Macquarie says that the licensing payment that Apple receives from Google practically goes straight to the bottom line, compared with the 15% profit margin that Apple achieves with Apple Music. The streaming music service is subscription based, which means that it too is included under services.
Lower licensing fees from Google would certainly have a negative impact on Apple's earnings. But this deal isn't all one sided. In a previous note to clients written last year, Toni Sacconaghi of Bernstein said that
iOS devices account for half of Google's mobile search revenue
. The chart at the top of this story shows the arm-in-arm relationship between Google's traffic acquisition costs and Apple's service revenue.
Despite the increased push to increase service revenue, CEO Tim Cook says that device sales are still the most profitable part of its business. Still
Apple is said to be planning on offering a new digital magazine service
thanks to its purchase of Texture. The latter offers users 200 digital magazines for $9.99 a month. And
as Apple Music continues to grow
, the company will have to find additional ways to make up for what could be a reduction in licensing fees from Google.
source:
WSJ