Google Pixel XL vs iPhone 7 Plus vs Galaxy S7 edge vs LG V20 selfie shootout: here's how they compare
65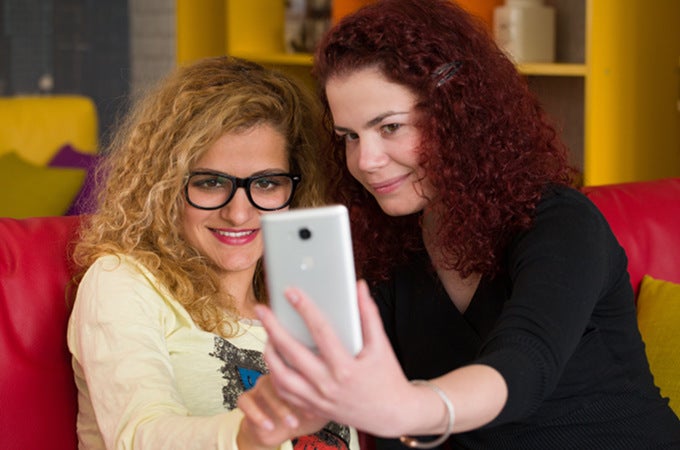 Depending on your stance towards selfies, these might either be the greatest thing since sliced bread or a plague that should be eradicated as soon as possible.
We? Suffice to say that we are occasional selfie snappers, though not excessively so. Yet, when we feel the urge to snap a selfie, we often have a hard time picking between the phones we have at hand. This reminded us it would be a great idea to compare the selfie capabilities of some of the hottest phones out there and see how they compare against one another - the Google Pixel XL, the iPhone 7 Plus, the Galaxy S7 edge, and the LG V20.
All the selfies in this comparison have been taken under the same conditions, with all settings and features of both phones unchanged from their default state so that all phones compete fair and square. We allowed ourselves an exception to that rule of thumb in the last test, where we disabled the front selfie flashes of both the iPhone 7 Plus and the Galaxy S7 edge.
Let's jump right into it!
Disclaimer: High-resolution versions of the images used in this comparison can be found at the end of the post.
Scene 1
Violet walls, violet halls
< Google Pixel XL
Apple iPhone 7 Plus >
< Samsung Galaxy S7 edge
LG V20 >
In our first scene, we find Nicole, our cute model casually leaning on a trendy purple wall, and it doesn't take long to notice that the Google Pixel XL's photo is easily the most detailed of all. Nicole's lips are so detailed you can even discern the small chaps and wrinkles. Additionally, the scarf's separate fibers are easily discernible from one another. Skin tone rendition seems good, though the highlights employ a noticeable yellow tint – that scarf is supposed to be whiter than it is. Overall, this selfie is a tad warmer than what we'd call natural.
The iPhone 7 Plus comes with a tighter field of view, which isolates the subject from the background better. That's vital for appealing portrait photography. Additionally, the iPhone 7 Plus has done the best job at creating an appealing selfie. The colors are true-to-life, with just a smidgen of saturation and vibrancy added by the phone to help bring out the best facial features of Nicole. That's not the case with the Pixel XL, the S7 edge, and the V20 selfies, which are somewhat bleak. However, in comparison with the Pixel XL, the Galaxy S7 edge, and even the V20, the iPhone 7 Plus selfie is lacking in terms of detail, which is especially visible with the scarf's hairs – those are a smudgy mess.

The Galaxy S7 edge selfie is quite detailed, though it's way behind the Pixel XL in terms of sharpness. Samsung's curvaceous flagship has also transformed our fashionable purple wall into a dirty pink one. Our main problem with that selfie is that it lacks any character and fails to excite. A deal-breaking combination.
The LG V20, on the other hand, has the uncanny tendency to smooth the skin, even when the built-in beautification mode is disabled. We guess this might be okay for the beauty-obsessed folks in South Korea who wish to hide away the little imperfections of their skin, but we can't say we are avid fans of such a severe skin treatment.
Scene 1: score
iPhone 7 Plus
9.0
Google Pixel XL
8.0
LG V20
7.0
Galaxy S7 edge
6.5
Scene 2
Wintry visage
< Google Pixel XL
Apple iPhone 7 Plus >
< Samsung Galaxy S7 edge
LG V20 >
In this scenario, the Google Pixel XL is clearly the superior selfie-taking gizmo if detail is what you're looking for.
Starting off with detail, it trumps all of its rivals – a closer inspection reveals just how sharp Nicole's curly hair is in the selfie taken with the Pixel XL. The second spot in terms of detail is actually a tie between the iPhone 7 Plus, the Galaxy S7 edge, and the V20. However, detail is seldom paramount when selfies are on the table.
Nicole's face appears brighter and thus better separated from the background in the iPhone 7 Plus selfie, as she is correctly exposed. The cost for this has been a slightly noticeable yellow-green tint that has been applied to the skin, which might not be just anyone's cup of tea.
Meanwhile, the Galaxy S7 edge and the LG V20 have once again produced non-vibrant, undersaturated selfies that will require some post-processing in order to pop out and amass more likes on social media. The Pixel XL has gone for a more vibrant skin tone rendition, which is great, but overall, the selfie it took fails to draw the viewer's attention towards Nicole's face, which is the main goal here. The V20, however, does just this – although the skin tones are milky and slightly anaemic, the angelic appearance of the model is engrossing. That selfie earns our like.

Scene 2: score
LG V20
9.0
iPhone 7 Plus
8.0
Google Pixel XL
7.5
Galaxy S7 edge
6.0
Scene 3
Indoor selfie time
< Google Pixel XL
Apple iPhone 7 Plus >
< Samsung Galaxy S7 edge
LG V20 >
The Pixel XL once again proves its mettle in terms of detail reproduction – just compare the eyebrows in the crops and you will clearly see that Google's trooper is a force to be reckoned with. Hair detail is also more prevalent in the Pixel XL selfie. Also, when it comes to true-to-life color rendition indoors, the Pixel XL definitely comes on top – skin tones look delightfully natural and realistic. You can even make out the different shades of brown on Nicole's iris in that selfie, which can't be said for the rest of the images. Extra points to the Pixel XL for that particular self-portrait!
We wish we could say the iPhone 7 Plus selfie was shot with the
Transfer
filter selected, but sadly, that's not the case. The color temperature in the iPhone selfie is way warmer than it should be, which leads to a mostly unnatural and oversaturated image. We can't say that this selfie will earn our "
like
", especially when it's viewed side-by-side with the one snapped by the Pixel XL.

The S7 edge has produced a slightly bleak image that looks a bit uninspiring to us, with skin tones a bit under-exposed. Skin detail fades away in a waxy mess. The V20 has properly exposed the model's face and is once again drawing our attention towards the various facial features of Nicole. Ditto about the milky tones, as LG's smoothing algorithms have once again kicked in and have done away it most fine details. We can't say we are fans of such smudged selfies – they look artificial and over-processed.
Scene 3: score
Google Pixel XL
9.0
LG V20
8.0
Galaxy S7 edge
8.0
iPhone 7 Plus
6.0
Scene 4
Low-light affair
Occasionally, the need arises for the average male to snap a selfie. We are not sure why, but this particular male has chosen to take a selfie in very bad lighting conditions, which often lead to disappointing results. But hey, at least we get to see how the four phones fared at this daunting task.
< Google Pixel XL
Apple iPhone 7 Plus >
< Samsung Galaxy S7 edge
LG V20 >
Once again, the Pixel XL comes forth with a way more detailed, and arguably, a better-exposed selfie in comparison with all its rivals, with little to no noise despite having shot the image at the highest ISO setting among the four. The iPhone comes at the second spot in terms of overall detail. There's a noticeable amount of noise creeping in the iPhone selfie, courtesy of its smaller aperture which lets less light hit the camera sensor.
While both the Galaxy S7 edge and the V20 are paying tribute to Madame Tussauds' wax museum as our male model looks like an artificial wax figure with smudged skin in the selfies they came up with. We are sorry if you are fans of such selfies, but we don't find them appealing at all.

Scene 4: score
Google Pixel XL
9.0
iPhone 7 Plus
8.0
Galaxy S7 edge
7.0
LG V20
6.0
Conclusion
The Google Pixel XL definitely stirred the pot with its exceptional selfie-snapping capabilities of its Auto HDR+ front-facing camera. Not only does its camera consistently produce detailed images, but these are almost always rather appealing to look at due to the detail aplenty as well as the great skin tones. That's a respectable combination that is given to garner lots of positive buzz on any social media.
As far as the iPhone 7 Plus is concerned, we find its narrower field of view to be perfect for selfies since it helps isolate the subject from the background. Granted, this might not be that great for group selfies but works wonders for regular auto-portraits. Depending on where you stand, the iPhone's often incorrect and way vibrant color rendition could be either a pro or a con.
The Samsung Galaxy S7 edge is an able-bodied shooter that is a bit lacking in terms of fine detail and tends to smoothen skin way more than necessary, even when its numerous beautification gimmicks are turned off. The same applies to the V20, which is mostly in the same ballpark as the Galaxy S7 edge – it simply loves to make your skin waxy and smudged, which might look okay on Instagram, but zooming in quickly reveals a hazy mess of detail.


So, at the end of the day, every single one of these phones will take a decent selfie, especially if you take into consideration your surroundings and the lighting. However, the Pixel XL is ahead of the curve right now.
Final score
Google Pixel XL
8.4
iPhone 7 Plus
7.8
LG V20
7.5
Galaxy S7 edge
6.9