Google Pixel 3 XL listed for sale on black market, priced at $2000 each
12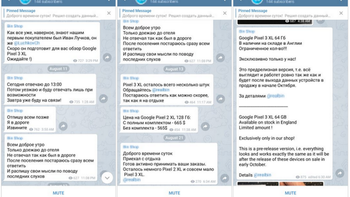 The description of the device, translated by Google from the original Russian, says that the seller expects the Pixel 3 XL to be released at around the same time that the
Pixel 2 XL
was released last year. The second generation model was introduced on October 4th, 2017 and released on October 20th, 2017. A listing found for these wayward Pixel 3 XL units states that there are 3 units left, each one priced at $2,000 USD. The sellers, using multiple Telegram accounts, are also offering 128GB Pixel 2 XL units for $665 ($100 less without the box).
Google's legal and security teams have been meeting with contract manufacturer Foxconn over the last two days to discuss the recently published leaks. Keep in mind that if you're intrigued by the idea of purchasing a Google Pixel 3 XL weeks before the phone is introduced, anyone buying merchandise that they know was obtained illegally could be charged with a misdemeanor or a felony in the U.S.

These photos allegedly show some of the Pixel 3 XL units sold in the Ukrainian black market
Some of the Pixel 3 XL leaks that we have seen are said to be units purchased from the aforementioned Ukrainian seller. The latter claims that Google cannot remotely deactivate the units he is selling. Twitter user Owen (@ow) pointed out that some of the units are listed as "DVT" (Design Validation Testing) and others were listed as "EVT" (Engineering Validation Testing). He also claims that the software on the phones is dog-food level and is not ready for prime time.