How to install the Android P beta on your Google Pixel or other eligible phone
8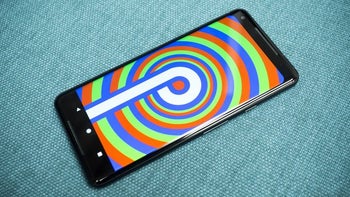 Waiting: it's not fun, is it? We know how that feels. After all, Google just announced a whole bunch of – quite frankly – pretty cool
new Android P features
, but we'll have to wait several more months until we actually get them on our phones. Still, there's a way to give Android P a try right now, as long as you have an adventurous spirit and... a compatible phone.
Google just made the
Android P Beta
publicly available for developers and nerdy individuals such as ourselves. And the software isn't just at the disposal of Pixel phone owners. The Android P Beta can be installed on several non-Google phones as well, including the
Sony Xperia XZ2
, the
Nokia 7 Plus
, and the
Essential Phone
.
In the paragraphs below, we'll walk you through the process of installing the Android P Beta on an eligible device, though we have to make an important disclaimer first. As Google itself clarifies, the Android P Beta available today is for preview and development purposes only. It is not recommended to install on your daily phone as it is still buggy and unreliable. Proceed only if you're okay with that – and do so at your own risk. Don't hold us – or anyone else – accountable if installing the software wreaks havoc on your phone.
How to install Android P Beta right now:
Step 1:
Go to
https://www.google.com/android/beta
. You may need to sign in to your Google account before you see a list of eligible devices. In our case, that's a Google Pixel 2 XL, but the steps should be identical for any eligible phone.
Step 2:
Scroll down and find your eligible device. You should see a picture of it with a pretty blue "Opt In" button underneath. Tap the button.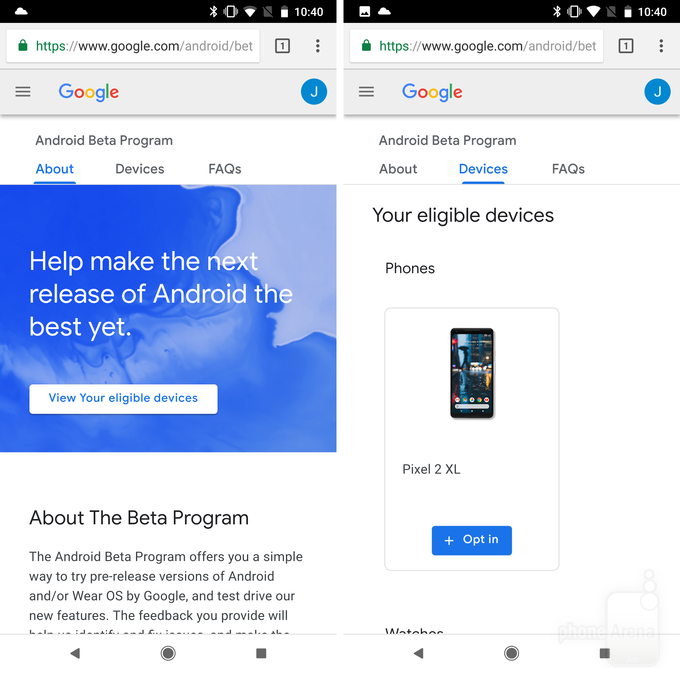 Open Google's Android P Beta page, log in, and Opt In with your eligible device
Step 3:
Read and agree to all the terms and conditions. It says that all your data will be erased, which wasn't the case for us, but it won't hurt to back up all your important data anyway.
Step 4:
At this point, you should receive a message confirming your enrollment in the Android P Beta program. If a software update notification does not appear shortly, go to Settings > System > System Update and check for updates manually.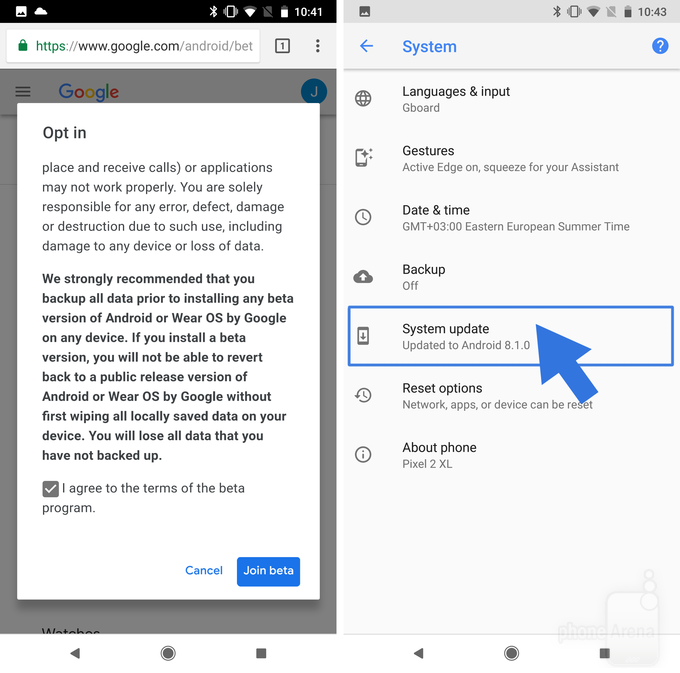 Agree to all terms and conditions, then check for a software update manually if an update notification does not arrive
Step 5:
We got an update notification almost immediately. Confirm the download, then sit back and relax while 1.2GB of data are downloaded to your device. You will have to restart your phone to complete the update process.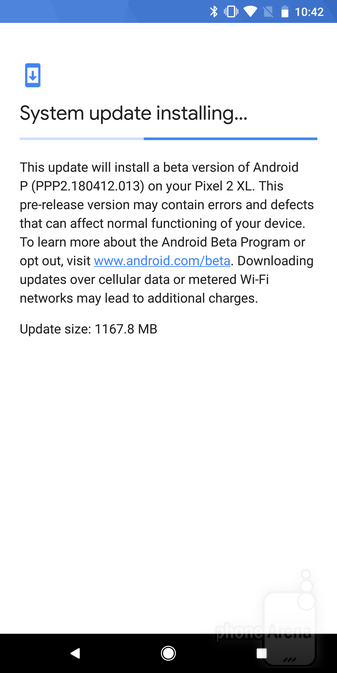 Sit back tightly as the beta software is downloaded and installed
And that's it! Of course, this isn't the only way to install Android P Beta on the Google Pixel or any eligible device. You may download the files yourself from Google's Developer portal and flash them manually if you know what you're doing. Above, however, is the easiest, most painless way to give the Android P Beta a quick spin. To opt out of the Android P Beta program, go to the page linked in Step 1 above.