Google Pixel 2 prices to start at $649, three color variants revealed
25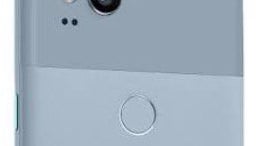 Earlier today, we learned that the LG-madeGoogle Pixel 2 XLshould be a bit more expensive than last year's Pixel XL, reportedly costing $849(64 GB version) and $949 (128 GB version).
According to Droid-life, things won'tbe that bad with the HTC-madeGoogle Pixel 2, as this is supposed to be offered at thesame prices that the Pixel of 2016 was launched for: $649 (64 GB) and $749 (128GB). We're guessing that the near-bezel-less 6-inch screen of thePixel 2 XL has something (or a lot) to do with its higher price. As you may know, the Pixel 2 isn't expected to sport such a screen, instead having a pretty standard5-inch display with noticeable bezels at the top and bottom, akin to lastyear's Pixel.
Apparently, the Pixel 2 will be available in three colorvariants - Just Black, Clearly White, and Kinda Blue. Droid-life hasimages showing all of them, though only from the back.
Besides different sizes and different front designs, thePixel 2 and Pixel 2 XL should be pretty similar, offering features likeQualcomm's Snapdragon 835 CPU, 4 GB of RAM, and high-end cameras. One of theunusual novelties that the two phones could bring is a squeezable frame à laHTC Edge Sense.
Both the Pixel 2 and Pixel 2 XL will be announced by Googleon October 4. They'll obviously be released with Android 8 Oreo on board, though they've lost the honor of being the world's first to ship with Oreo out of thebox (that's because Sony already launched its Oreo-based Xperia XZ1).
We're looking forward to discovering the Google Pixel 2 and Pixel 2 XL once they're officially unveiled. What about you?
source: Droid-life