Google Pixel 2 XL pricing leaks out: You probably won't like it
67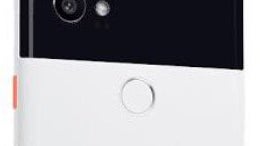 Google is almost ready to officially unveil two newsmartphones - a large one made by LG, and a smaller one manufactured by HTC.The LG-made handset will be the most expensive among the two, just like lastyear's Pixel XL was (and still is) more expensive than the regular Pixel.
The Pixel XL 2016 was launched for prices starting at $769, somaybe that's also the starting price of its successor? Unfortunately,that's not the case, as the new handset will cost a bit more.
According toDroid-life, the Google Pixel 2 XL will be offered for $849 (64 GB version), or$949 (128 GB version). This puts the Pixel 2 XL 128 GB right next to other ~$1,000high-end phones like the Samsung Galaxy Note 8 and the yet to be launched Apple iPhone X. Well, we kind of saw this coming.
Reportedly, "Pixel 2 XL" is the official name ofthe upcoming device, which likely means that the smaller model will be called Pixel2 - no surprise here. Droid-life has two new images that show the back of the Pixel2 XL in "Black & White", as well as in "Just Black." These imagesdon't contradict previously leaked renders and photos, basically showing thatGoogle is keeping the dual-tone rear design of last year's Pixels.
The Pixel 2 XL is expected to sport a screen of around 6inches (with almost no bezels around), further offering appealing features likea Qualcomm Snapdragon 835 processor, at least 4 GB of RAM, and a top notch rearcamera.
Google will announce the Pixel 2 XL and Pixel 2 early nextmonth, on October 4, and we're thinking that both smartphones could go on saleshortly after that. So, are you waiting for any of these new Pixels?
source: Droid-life