Kinda Blue Google Pixel 2 is kinda really out of stock
14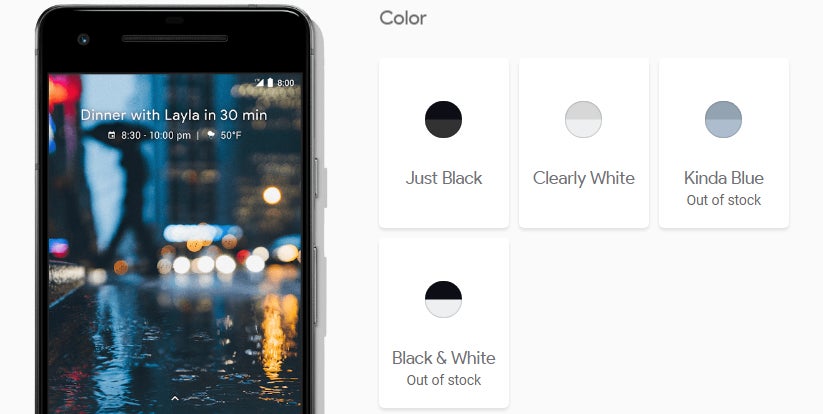 Google started taking pre-orders for the Pixel 2 and Pixel 2XL on October 5, almost immediately after announcing the two new phones. On thesame day, the Black & White (panda-like) version of the Pixel 2 XL went outof stock on Google Store. Now, we're noticing that the Kinda Blue Pixel 2 canno longer be ordered, either.
As a reminder, Black & White is a Pixel 2 XL exclusivecolor, while Kinda Blue is a Pixel 2 exclusive color. With both now out ofstock, at the moment you can only order the Pixel 2 in Just Black and ClearlyWhite, while the Pixel 2 XL is available in Just Black.
You can still pre-order the two color variants that are missingfrom Google Store if you go to Verizon, though the carrier says the Black &White Pixel 2 XL may not ship before November 1.
Google had stock issues with last year's Pixel smartphones, too.While we don't know the number of customers who've already pre-ordered a newPixel, it really looks like Google has misjudged demand, at least on the colormodels that are out of stock.
Since the Pixel 2 and the larger Pixel 2 XL are built bydifferent companies (HTC and LG, respectively), one could think Google should haveno problems securing enough stock. But, alas, one would be wrong.
source: Google Store