Google Pixel 2 hands-on
9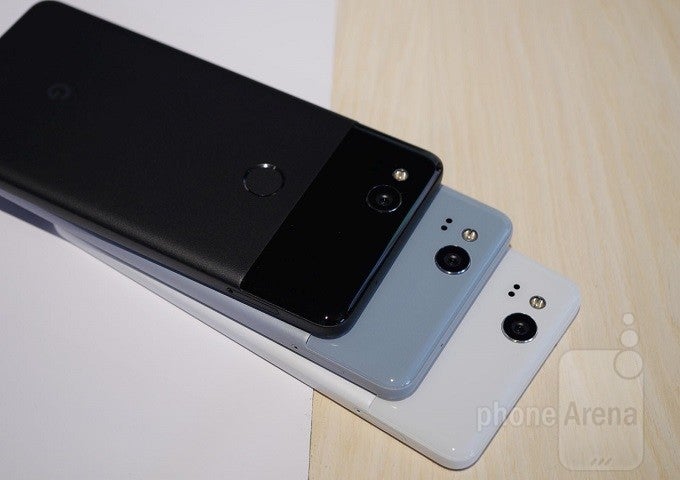 This year's eagerly awaited pure Android devices have big shoes to fill. Google's own Pixel and Pixel XL from last year gave us top of the line specifications with unadulterated Android software. In addition to replacing the Nexus line of smartphones, the Pixel's were also Google's first fully self-branded smartphones, with nary a hint of their manufacturing partner's presence.
If the Google Pixel and Pixel XL had a weakness, it was the design of the hardware itself. Arguably much better looking than what pictures made them out to be, the first line of Pixels did not win any beauty contests.
Many forgave the awkward outer appearances for sake of the killer performance, and the amazing camera, particularly the digital video stabilization, however. By just about every measure, Google's first generation of Pixel smartphones proved to be a winner. Indeed, the Pixel 2 and Pixel 2 XL have a tough job ahead in the wake of their predecessors.
Design
The Pixel 2 preserves many of the design cues of last year, and thankfully brings back some of the features from previous generation Nexus devices. The Pixel 2 is a bit traditional, it is not sporting a bezel-less display with rounded corners. In fact, the smaller Pixel bucks that trend entirely while introducing an added feature we first saw earlier on the HTC U11, squeeze interaction to launch Google Assistant.
The chin and forehead are huge by modern smartphone standards, and the bezel on the sides isn't trying to hide either. Thankfully, that space is being put to use because now we have been reunited with dual front-facing speakers. Can we get a hallelujah?!
Now, before you rejoice with an "AMEN," you should also know that the Pixel 2 is following a slowly growing pack of smartphones with no 3.5mm headphone jack. This might be a little more forgivable if Google had not gone out of its way to rake Apple over the coals last year by proudly proclaiming the presence of a headphone jack.
That gripe aside, the design is a little underwhelming, but the software and enhanced Google services that lie underneath make for an impressive package overall. This year's "Made by Google" smartphones are IP67 water and dust resistant. The Pixel 2 can be had in three colors, Just Black, Clearly White, and Kinda Blue. Sadly, the latter is available only through Verizon, the sole carrier retailer for the Pixel 2 smartphones.


Display

The Pixel 2 packs a 5-inch display of the AMOLED variety. Like last year's smaller Pixel, full-HD is along for the ride with a traditional 16:9 aspect ratio. While not a pixel-density crushing spec, 441 pixels-per-inch is more than enough to enjoy any type of media or user interaction. It also means we can expect great performance and excellent battery life since the processor and GPU will not likely break a sweat.


Processor and memory

The power of the Snapdragon 835 CPU paired with the trusty Adreno 540 GPU gave no hints they were making much of an effort to handle tasks in our brief hands-on. In fact, it is quite exciting to see pure Android running without any hindrance at all. The octa-core Snapdragon is tuned to 2.35GHz and 1.9GHz. Those hoping for some off-the-map RAM and storage figures should put their expectations in check, however. The Pixel has 4GB of RAM, and will be available with either 64GB or 128GB of non-expandable storage. However, like last year's Pixel devices, full resolution storage of photos and videos (often the lead culprit in consuming on-device storage), have no limit storage in Google Photos.


Camera

You will want to use that storage too, because the Pixel 2 promises to continue the baseline of excellence set by its predecessor. While dual-cameras are all the rage it seems, last year's Pixel can still hold its own against 2017's flagships, and that is why we are not disappointed to see a single sensor on the Pixel. Measuring in at 12.2-megapixels with an f1.8 aperture, the Pixel's main camera adds optical image stabilization to the well-executed digital stabilization that impressed us last year. Laser-assisted autofocus remains as well.




True to Google's form, AI drives a lot of the features of this camera, particularly its own take on Portrait Mode. Instead of relying on a second camera to collect data enabling the bokeh effect, the dual-pixel implementation allows Google's algorithms to do the heavy lifting. Google earned new bragging rights again this year for the camera, with DXOMark giving the Pixel 2 camera a score of 98.
Pricing, availability, and expectations
You can pre-order the Google Pixel 2 now, including Verizon devices, direct from Google. The 64GB model costs $649, and the 128GB option is $749. Google's "Preferred Care" is available for $129 (netting you 2 years protection and support). Units will be available in retail outlets beginning October 19th.
As of this writing, pre-orders for the Pixel 2 XL in Black & White were already sold out. We do not expect that this new generation of "Made by Google" smartphones will be lacking for demand, just like every year. If you recently picked up a first generation Pixel, you should not feel compelled to make the upgrade unless you live to be in the early adoption space. However, if you have been holding on to an older Nexus, hoping for a return of Nexus pricing, it is time to upgrade.
For a limited time, if you purchase a new Pixel 2, Google will throw in a brand new Google Home Mini.