Google's new Nest Mini comes with an upgraded Assistant, powerful sound
4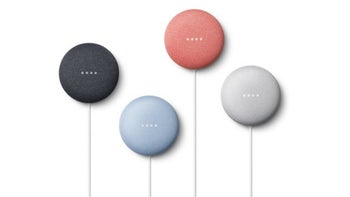 As expected
, Google revealed a brand new smart speaker that might be considered the
Home Mini
successor. The new Nest Mini looks very much like the predecessor, but it includes a hole on the backside that allows owners to attach it on the wall.
As far as the name goes, since Google brought together the Google Home and Nest teams under the Google Nest brand, it makes sense for the new product to be called Nest Mini. The latter has been completely redesigned to improve everything that users have found useful in the original model, the Home Mini.
That being said, it looks like Nest Mini comes with upgraded hardware and software that will make it sound much better than the original. For example, the Nest Mini can provide bass that's twice as strong as the Google Home Mini. Also, Google's software engineers managed to developed proprietary audio tuning software that allows the device to offer a full, clear and natural sound at every volume level.
Nest Mini features LED lights that will light up when your hand gets close to the device so that you can adjust the volume while you're listening to music. Also, the smart speaker can dynamically adjust the volume of the Assistant, news, and podcasts based on any background noise.
If you have other Nest speakers in your home, you can connect them to Nest Mini to create a sound system for your entire home. Also, thanks to the new stream transfer feature, you can now move your music, audiobooks, and podcasts from one speaker to another with your voice.
According to
Google
, the Nest Mini is smarter and faster than the original Mini thanks to the dedicated machine learning chip with up to one TeraOPS of processing power. This allows Google to move some Assistant experiences from its data centers directly onto the device. For example, in the United States, Nest Mini can learn the user's most common commands and process them locally, which results in a much faster response time.
The new Nest Mini is available for pre-order via the
Google Store
for $49. The smart speaker should hit shelves on October 22 at Best Buy, Target, Walmart and other US retailers.