Google Glass competitor runs Android 4 and records 720p video
19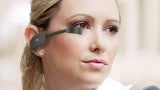 If you liked the idea of
Google Glass
, then you'll probably find this one interesting as well - the Vuzix Smart Glasses M100 is a wearable computer, which is a bit more similar to a handsfree than something like the Google Glass. Thinking about it, this concept seems a bit more acceptable to us than the weird design of the Glass.
Anyway, the Vuzix will be powered by Android 4.0, while its display will have a resolution of 400 x 240 pixels. You'll be able to pair the device to an Android or iOS smartphone via Bluetooth or Wi-Fi, which will allow you to take calls, read messages and email and such kind of "headset" stuff. However, the device should also be able to display all apps that can output image signal to an external monitor. This means that you should be able to use it for navigation, web browsing, augmented reality and other useful applications. The Vuzix will be equipped with a GPS, 3-axis head-tracker, gyroscope and a digital compass to accurately track your movements.
The M100's built-in camera will be capable of recording 720p video, so the Google Glass's trademark feature is also covered here. Other features include a 1 GHz TI OMAP 4430 CPU, 1GB RAM and a microSD card slot and 4GB of internal storage. When it comes to battery life, the Smart Glasses M100 should be able to deliver up to 8 hours of handsfree use, and up to 2 hours of handsfree use with the display on, which may not sound like a lot, but... what other options are there?
The Vuzix Smart Glasses M100 is expected to go on sale in early 2013, but a developer bundle, including a Windows-based emulator, sample code, access to private coding portal, and an early M100 unit (when production starts), is currently priced at $999. The software goodies of this bundle are said to become available this December, but apparently, you developers will also have to wait until next year in order to receive your gadget.
source:
SlashGear