Goodbye Flappy Bird: dev says he'll remove the game from Google Play and iOS App Store
51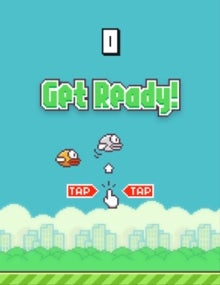 Come tomorrow,
Flappy Bird
will no longer be available to download via Google Play and iOS App Store. That's what Dong Nguyen, the game's developer, said on Twitter about an hour ago.
According to Nguyen, who lives in Vietnam and didn't expect Flappy Bird to become so successful, he "will take Flappy Bird down" tomorrow, because he "cannot take this anymore." Earlier this week, Dong Nguyen tweeted that "press people" were "overrating the success" of his games, and all he wanted was for people to "give him peace."
Flappy Bird was downloaded more than 50 million times on iOS and Android, currently
generating about $50,000 per day
from ads. The game is free, has vintage 8-bit graphics, and only requires players to tap the screen to keep the flappy bird alive (that, as you may know, can get quite challenging - and most of the time also really frustrating).
Since the developer says he's removing Flappy Bird from Google Play and iOS App Store, we'll probably not see the game
landing on Windows Phone
at all. Even so, Flappy Bird fans already have
alternatives / clones to download
, not just on Windows Phone, but also on Android and iOS.
Dong Nguyen says that he'll still make games. A selection of his games (all designed in the same retro style as Flappy Bird) is available at his website, dotGears Studios. Available titles include Smashing Kitty, Shuriken Block, and Ninjas Assault.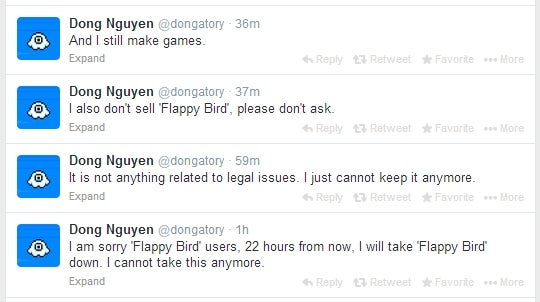 sources:
Twitter
,
dotGears Studios