Flappy Bird arrives on Android: painfully addictive
12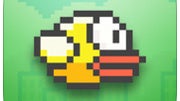 Flappy Bird, the smashing iPhone hit, a simple retro-styled pixel-art game with a flying bird, has arrived on Android, and if you've ever wanted to kill a few minutes playing a ridiculously addictive game, that's one perfect option. Just don't get carried away - you can easily end up spending hours!
Flappy Bird is very addictive, yet extremely simple. You control a bird by tapping anywhere on the screen, trying to avoid the pipes. We said simple, not easy. In fact, the game is surprisingly hard to master, and requires a lot of concentration to get a medal and achieve a high score. You can score one of four medals - Bronze, Silver, Gold (hard), Platinum (very hard). And the stakes get even higher when you get your friends involved, and you try to outdo one another. It's no wonder that gamers have even tried to find out hacks and cheats to boost their scores.
And this exact network effect is probably what made the game so popular so quickly. Flappy Bird is now the number one free game on both Android's Google Play and the iOS App Store, and - needless to say - gets our heart-felt recommendation. By the way, our high score is 40, what's yours?
| | |
| --- | --- |
| Developer: .GEARS Studios/Dong Nguyen | Download: Android / iOS |
| Genre: Platformer | Price: Free (with ads) |