Gingerbread to usher Android into the mobile payment era
6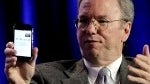 Among the things that Google's CEO Eric Schmidt
talked about yesterday
, was a pretty significant tidbit about the NFC chip in the
Nexus S
, that enables contactless payment. Gingerbread, the latest version of Android, will be able to utilize such chips for mobile payments and product promotions on-the-fly. What Google's main man is envisioning is not only waving your phone in front of a POS terminal to pay for goods and services, but actually receiving up-to-date information about promotions or other sales activities upon entering a store, or while walking down the street, tailored to the specific shops around you, provided that you have these options turned on.
He dismissed security concerns, saying that NFC is more secure than the magnetic stripe we use in credit or debit cards for our everyday transactions. Google has also been updating its Shopper and Product Search applications for Android recently, obviously in relation to the mobile payment capabilities that Gingerbread will bring.
We
wrote extensively
about the mobile payments status quo around the world and in the US a few months ago, and it's great to see the things advancing at the fast pace expected in Q4 of this year. AT&T, Sprint and Verizon have already tested and announced
mobile payment initiatives
. The major US carriers also clarified that the fruits of their
mobile wallet project collaboration
will be
revealed today
, and we will certainly see the payment juggernauts Visa and MasterCard stop and listen, since the carriers are partnering with the underdog Discover.
Knowing that Apple is
hard at work
to offer something similar in the next generation iPhone, and now having Android plus the US carriers jumping on that bandwagon, makes us think that the mobile payment revolution will have a pivotal year in 2011. Your leather wallet, and the credit card companies, should be watching the developments very, very closely, despite that Eric Schmidt said Google will partner, rather than compete, with the likes of Visa.
What nobody is clarifying yet, is if your phone gets lost together with all these payment niceties in it, what are you going to call from to lock it? We feel that less and less people will be forgetting their phones in cabs from now on.
What does everybody think, will you be using a well-implemented shopping and payment experience on your next-gen iPhone or Android device? Do you think it brings more convenience than just swiping a card, if promotions, discounts and in-store locations are fed to your phone in real time? And finally, who will be able to make it cool enough in the US first - Apple, Google, or the carriers?
source:
Reuters