Gartner: Samsung top chip buyer last year, surpasses Apple
7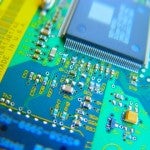 29% to $23.9 billion
. That represents 8% of the entire world-wide market for the silicon based product. For its part, Apple increased its spending on chips last year by 13.6% to reach $21.4 billion. That works out to 7.2% of the global market.
Together Apple and Samsung took in 15 out of every 100 chips produced on the globe last year. The total value of all of the chips produced on the planet in 2012 was $45 billion. After Samsung and Apple, the top five chip buyers included HP, Dell and Sony, with market shares of 4.7, 2.9 and 2.7 percent respectively. The company that had the
biggest decline
in chip purchases last year was Finnish handset manufacturer Nokia. Dropping from 5th to 10th place last year, the company bought $5 billion worth of chips in 2012, down from $8.5 billion in 2011.
Despite the rather large increases at the top of the charts, overall semiconductor sales were actually down 3% to a total of $297.6 billion in 2011. Other phone manufacturers on the top ten list of chip buyers included Lenovo (6th) and LG (8th).
source:
Gartner
via
Bloomberg